Tomac Wins First Supercross Race of SuperMotocross Era
Sunday, January 8, 2023 | 12:00 PM
Monster Energy Yamaha Star Racing's Eli Tomac took a wild and hard-fought victory at the opening round of the 2023 Monster Energy AMA Supercross season, an event that also paid points as the opening round of the inaugural SuperMotocross World Championship series. After a tough battle through the pack, Red Bull KTM's Cooper Webb locked down second place inside a packed Angel Stadium of Anaheim in Southern California. After leading several laps late in the race, Team Honda HRC's Chase Sexton took the third spot on the podium in this historical 50th year of Supercross racing. In the Western Regional 250SX Class, Team Honda HRC's Jett Lawrence nabbed the opening win with a wire-to-wire win.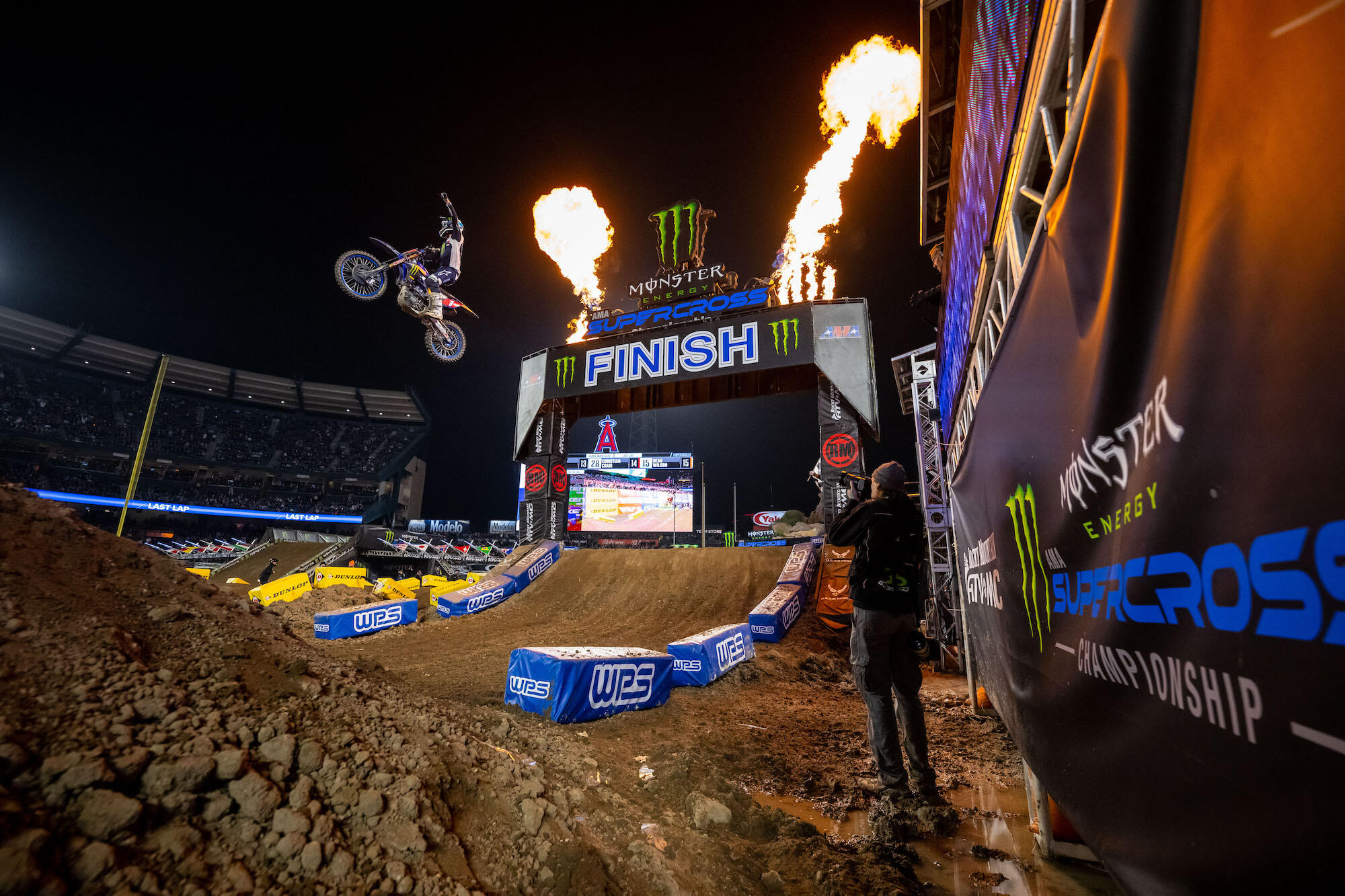 Team Honda HRC's Colt Nichols grabbed the holeshot of the 450SX Class Main Event but Troy Lee Designs Red Bull GASGAS Factory Racing's Justin Barcia took over the top spot just two corners into the race. Tomac and Progressive Insurance ECSTAR Suzuki's Ken Roczen were right behind, battling hard and flying side-by-side down three consecutive rhythm sections. Tomac broke free of Roczen, then took the lead over the bridge jump three and a half minutes into the 20-minute plus one lap race.
Rockstar Energy Husqvarna Factory Racing's Malcolm Stewart closed up to Roczen's rear tire as Barcia got sideways in a rhythm lane and crashed off the track. Barcia's crash moved Roczen to second, Stewart to third, and Team Honda HRC's Chase Sexton up to fourth. Six and a half minutes in, Stewart drew alongside Roczen and battled his way past. The two riders nearly came together, forcing a mistake from Roczen that allowed Sexton to take over third place. Further back, Monster Energy Kawasaki's Jason Anderson and Cooper Webb scrapped for fifth position.
Then Tomac crashed on the bridge jump he'd used to take the lead. Malcolm Stewart found himself out front. The crowd erupted as the Husqvarna rider saw his best shot at his first 450SX Class victory. At the halfway point Stewart led, Sexton pursued in second place, and Roczen sat third. Sexton challenged for the lead as Tomac started his charge back to the front.
With just under seven minutes left on the race clock Sexton pushed past Stewart, forcing Stewart momentarily off the track. Shortly after, Tomac reached third place and set his sights on Stewart in second. As the clock ticked down past 3:30, Tomac pushed past Stewart while Webb got around Roczen and into fourth. One small bobble from Sexton put Tomac suddenly in a perfect position to take back the lead. Only 1.7 seconds separated the top three racers when Stewart went over the bars in a rhythm section and saw his shot at a first win disappear.
With two minutes to go, Tomac took back the front spot. As the clock ticked past one minute, Webb reached third position. Webb nabbed one more spot, taking second from Sexton just as they crossed the white flag. Tomac took the checkers a lap later, earning his first Anaheim 1 victory and starting his title defense with a win and a display of speed that separates him as the rider to beat this season.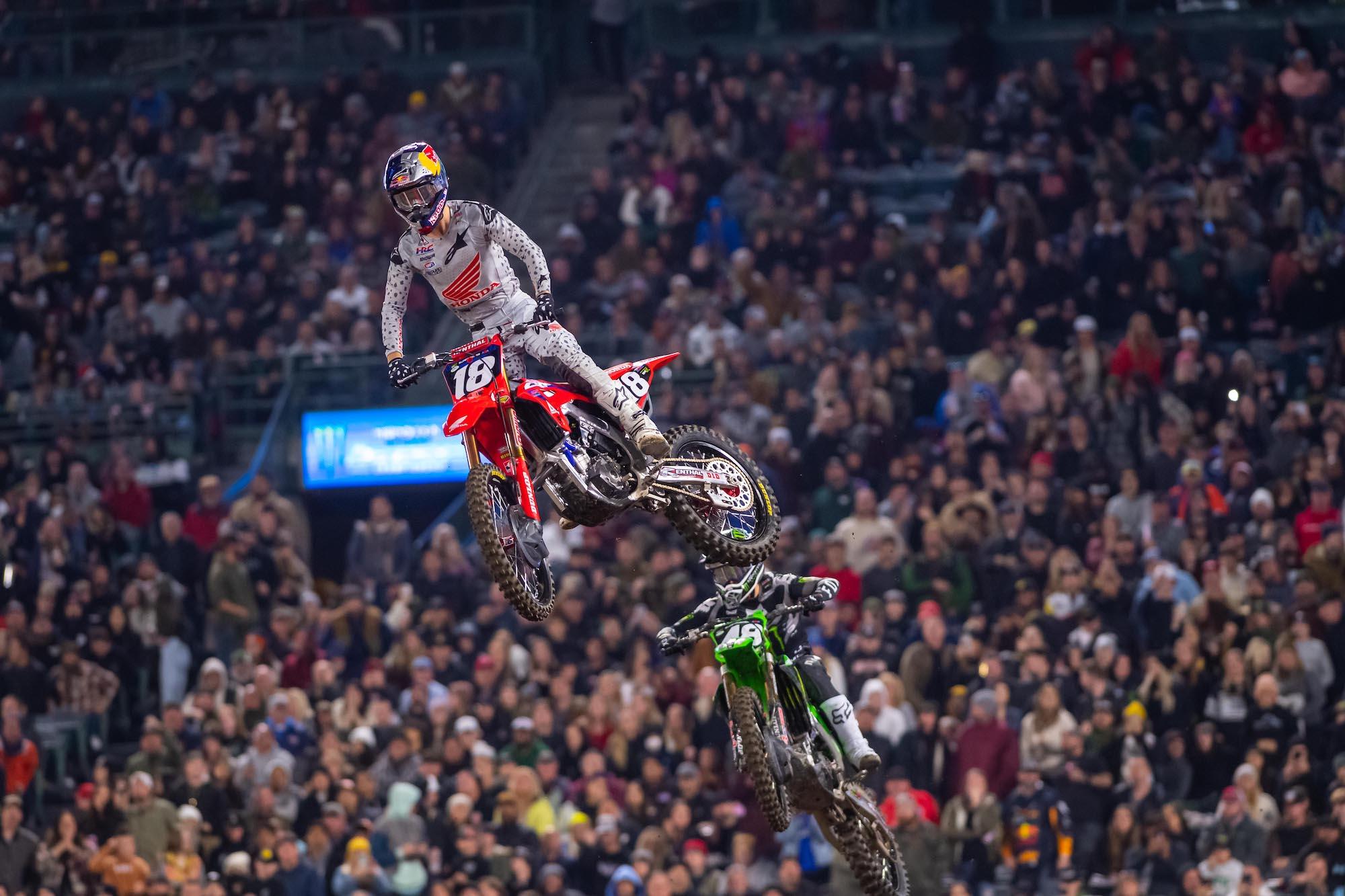 The Western Regional 250SX Class delivered a dramatic crash nearly from the instant the gate dropped. Just halfway down the start straight of the 250SX Class Main Event, Monster Energy Pro Circuit Kawasaki's Austin Forkner crashed hard. Emerging from the first turn with the lead, Jett Lawrence fought off early attacks from Monster Energy Pro Circuit Kawasaki's Cameron McAdoo. Before the first lap was in the books Lawrence had pulled clear of McAdoo and the pack and was never challenged again for the spot.
Behind Lawrence, McAdoo pursued with Red Bull KTM's Max Vohland, Muc-Off FXR ClubMX Yamaha's Phil Nicoletti, and Rockstar Energy Husqvarna Factory Racing's RJ Hampshire close behind. Hampshire put down fast laps on the rutty track and moved into third place two and a half minutes into the 15-minute plus one lap race. With under two minutes left on the race clock Hampshire made the pass into second position and held the spot to the checkers.
The racers battle again on Saturday night, January 14th at RingCentral Coliseum in Oakland, California for round 2 of the Monster Energy Supercross season. The event also serves as round 2 of the 2023 Super Motocross World Championship series. The new 2023 SuperMotocross League tests the athletes across both disciplines and culminates in a three race series (two Playoffs and one Final, with points payout increases at each) in September and October to crown a single champion in each class. All 31 SuperMotocross World Championship rounds will be streamed live on Peacock with select rounds also broadcast domestically across NBC, USA Network, and CNBC. International coverage is available through the SuperMotocross Video Pass at SuperMotocross.tv.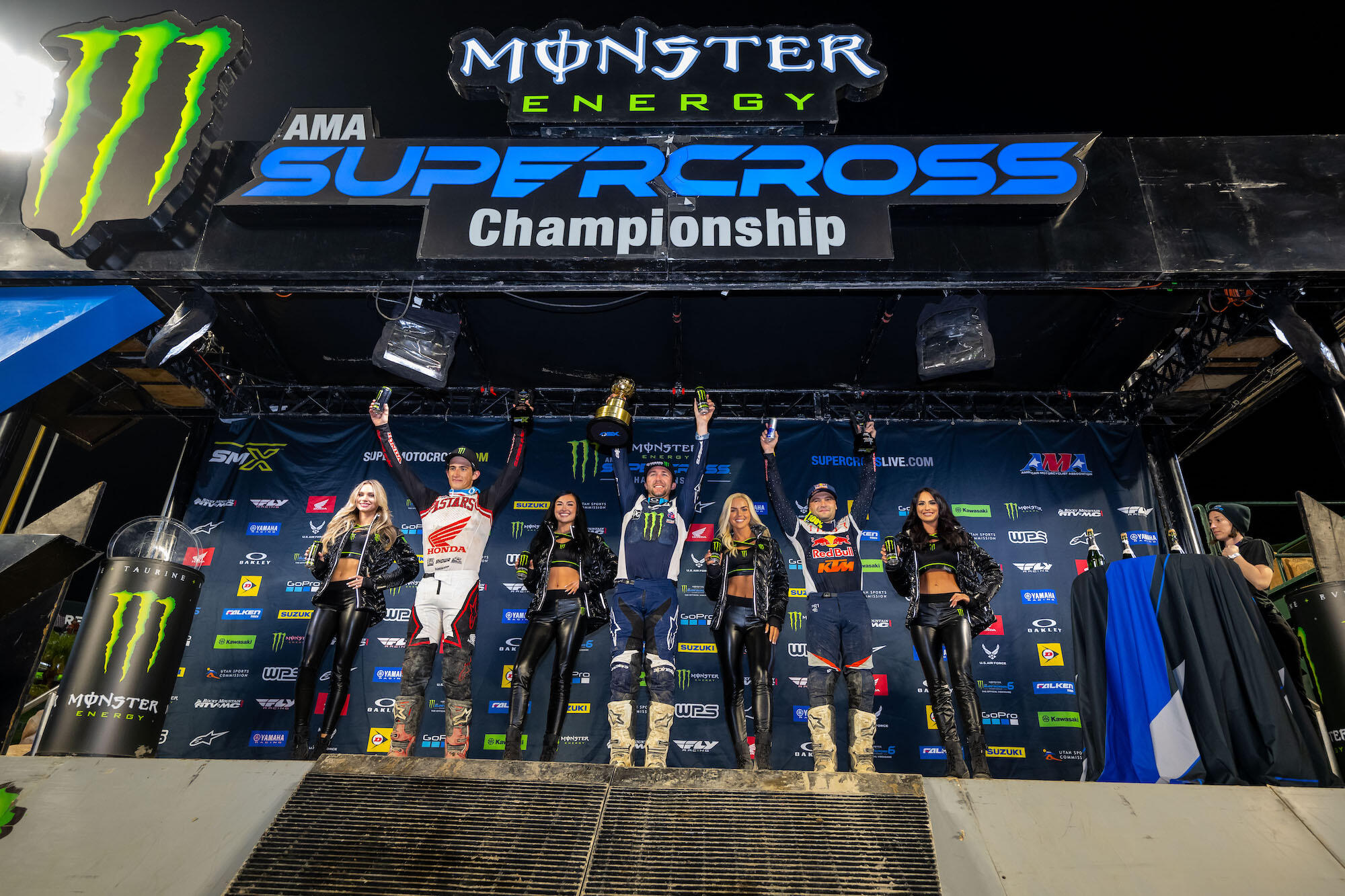 450SX Class Results - Anaheim 1
1. Eli Tomac, Cortez, Colo., Yamaha
2. Cooper Webb, Newport, N.C., KTM
3. Chase Sexton, Clermont, Fla., Honda
4. Dylan Ferrandis, Tallahassee, Fla., Yamaha
5. Ken Roczen, Clermont, Fla., Suzuki
6. Colt Nichols, Murrieta, Calif., Honda
7. Jason Anderson, Rio Rancho, N.Mex., Kawasaki
8. Aaron Plessinger, Hamilton, Ohio, KTM
9. Adam Cianciarulo, New Smyrna Beach, Fla., Kawasaki
10. Joey Savatgy, Clermont, Fla., Kawasaki
450SX Class Championship Standings
1. Eli Tomac, Cortez, Colo., Yamaha (26)
2. Cooper Webb, Newport, N.C., KTM (23)
3. Chase Sexton, Clermont, Fla., Honda (21)
4. Dylan Ferrandis, Tallahassee, Fla., Yamaha (19)
5. Ken Roczen, Clermont, Fla., Suzuki (18)
6. Colt Nichols, Murrieta, Calif., Honda (17)
7. Jason Anderson, Rio Rancho, N.Mex., Kawasaki (16)
8. Aaron Plessinger, Hamilton, Ohio, KTM (15)
9. Adam Cianciarulo, New Smyrna Beach, Fla., Kawasaki (14)
10. Joey Savatgy, Clermont, Fla., Kawasaki (13)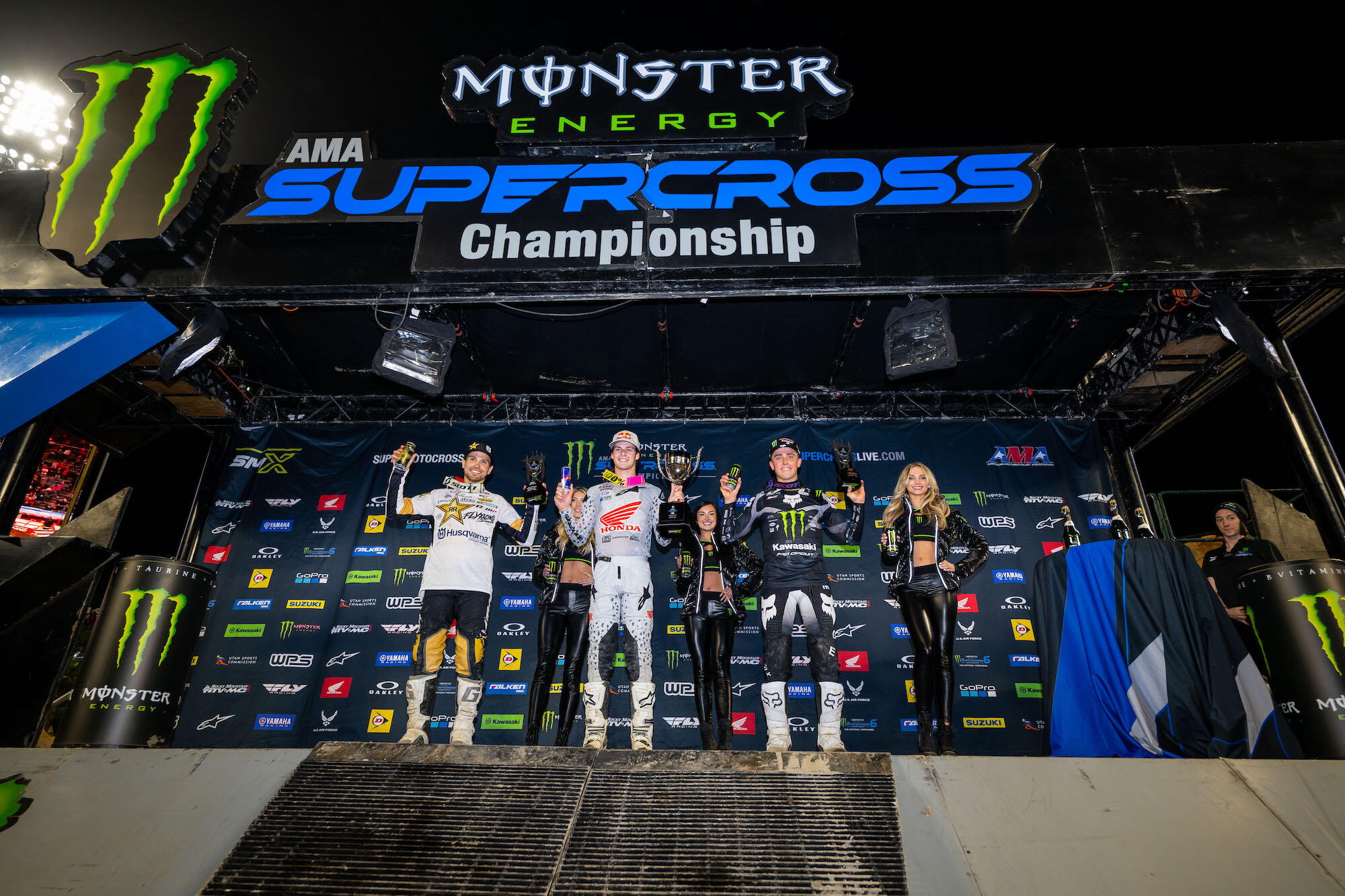 Western Regional 250SX Class Results - Anaheim 1
1. Jett Lawrence, Zephyrhills, Fla., Honda
2. RJ Hampshire, Minneola, Fla., Husqvarna
3. Cameron McAdoo, Sioux City, Iowa, Kawasaki
4. Mitchell Oldenburg, Godley, Tex., Honda
5. Max Vohland, Granite Bay, Calif., KTM
6. Enzo Lopes, Chesterfield, S.C., Yamaha
7. Levi Kitchen, Havana, Fla., Yamaha
8. Phillip Nicoletti, Bethel, N.Y., Yamaha
9. Stilez Robertson, Bakersfield, Calif., Yamaha
10. Derek Kelley, Riverside, Calif., KTM
Western Regional 250SX Class Championship Standings
1. Jett Lawrence, Zephyrhills, Fla., Honda (26)
2. RJ Hampshire, Minneola, Fla., Husqvarna (23)
3. Cameron McAdoo, Sioux City, Iowa, Kawasaki (21)
4. Mitchell Oldenburg, Godley, Tex., Honda (19)
5. Max Vohland, Granite Bay, Calif., KTM (18)
6. Enzo Lopes, Chesterfield, S.C., Yamaha (17)
7. Levi Kitchen, Havana, Fla., Yamaha (16)
8. Phillip Nicoletti, Bethel, N.Y., Yamaha (15)
9. Stilez Robertson, Bakersfield, Calif., Yamaha (14)
10. Derek Kelley, Riverside, Calif., KTM (13)