Tomac Ties Carmichael with 48th Career SX Victory in Oakland
Monday, February 20, 2023 | 1:00 PM
Monster Energy Yamaha Star Racing's Eli Tomac took the checkered flag with a thrilling final lap defense inside RingCentral Coliseum in Oakland, California for the re-scheduled Round 2 of the 2023 Monster Energy AMA Supercross season.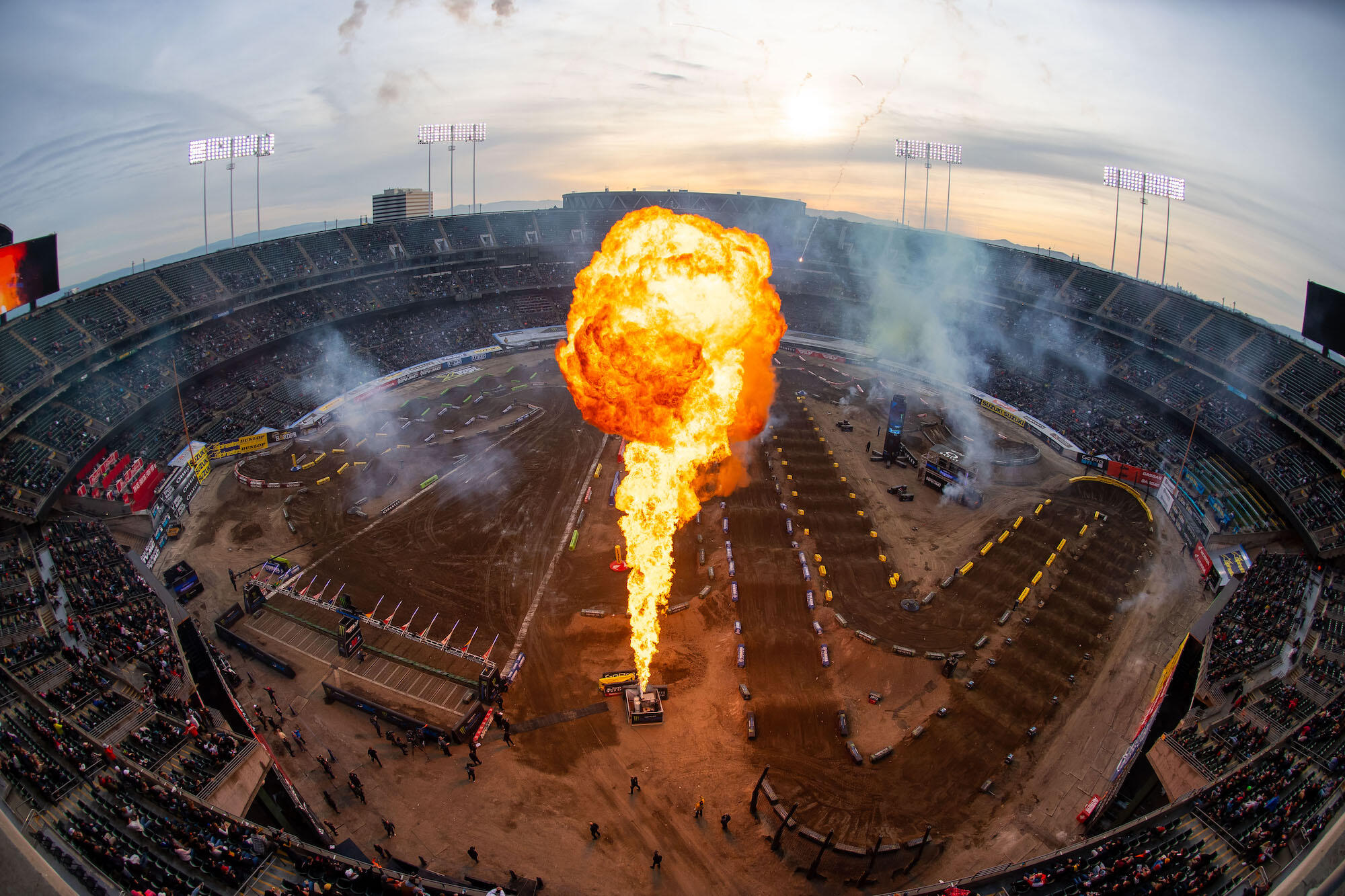 After a last-lap blitz Red Bull KTM's Cooper Webb finished less than one second behind Tomac in the event that also pays points toward the inaugural 31-round SuperMotocross World Championship. Team Honda HRC's Chase Sexton took the final podium spot after leading much of the race as the 17-round season puts six races in the books for 2023. The rescheduled race brought the Western Regional 250SX Class riders back into action and Team Honda HRC's Jett Lawrence used patience to get the win in a dramatic race.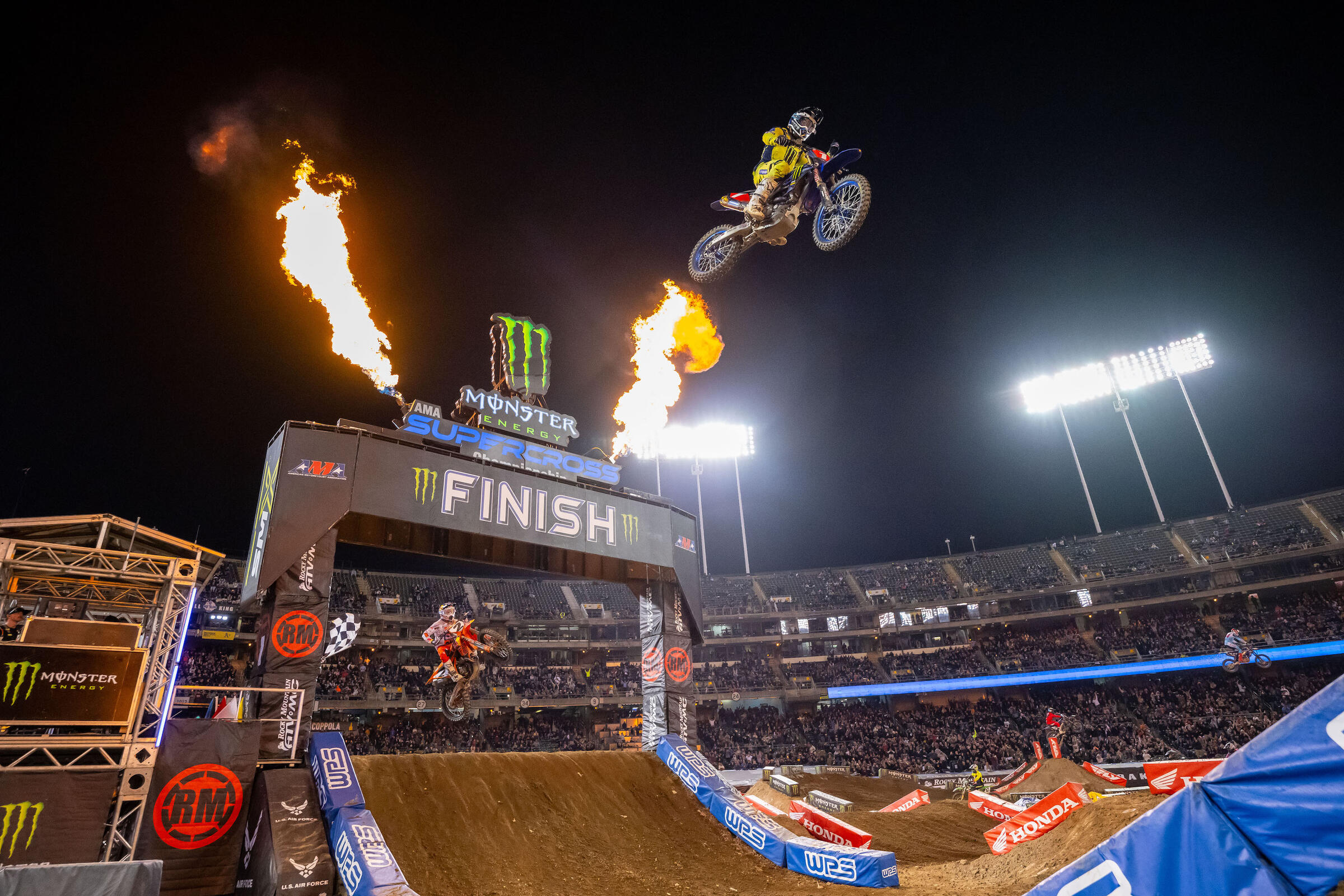 Chase Sexton grabbed the Holeshot in the 450SX Class Main Event with Rockstar Energy Husqvarna Factory Racing's Christian Craig, Tomac, Webb, and Red Bull KTM's Aaron Plessinger following. Webb wasted no time getting into second with Tomac right behind and Progressive Insurance ECSTAR Suzuki's Ken Roczen jumping into fourth. As the top three began to distance themselves from the pack, Monster Energy Kawasaki's Jason Anderson took over fourth place. Five minutes into the 20-minute plus one lap race Sexton held a 2.2 second lead over Tomac, who'd gapped Webb by four seconds.
The front three ran that formation for several laps. Behind them Plessinger put his KTM into fourth place and Roczen, Anderson, and Troy Lee Designs Red Bull GASGAS Factory Racing's Justin Barcia scrapped for fifth. Up front, Sexton slowly stretched out his lead past five seconds. A near-crash may have gotten into Sexton's head and led to an actual crash; with just over six and a half minutes left on the race clock he slipped sideways off a small single and crashed into a corner marker. Tomac took over the lead while Sexton remounted in second place.
But Sexton's troubles weren't over. Webb was on the move, and with 48 seconds left on the race clock Webb used a unique line down the track's final rhythm section to get past Sexton. When the riders took the white flag, Webb was 4.3 seconds behind Tomac.
Then it was Tomac's turn to make an unforced error. On the final lap he landed awkwardly into the face of a small jump, got off-balance, and veered off the track. Tomac recovered but looked off-time for the final lap while Webb laid down a fierce charge. Webb had his fast line in the rhythm section that Tomac wasn't doing, and as the two riders approached the final turn Webb's faster line came up just short giving him the pass. Tomac took the win less than a second ahead of Webb. Tomac's win was his 48th Supercross victory, putting him into a tie for third-most all-time wins with Ricky Carmichael, who called the race from the announcer's booth.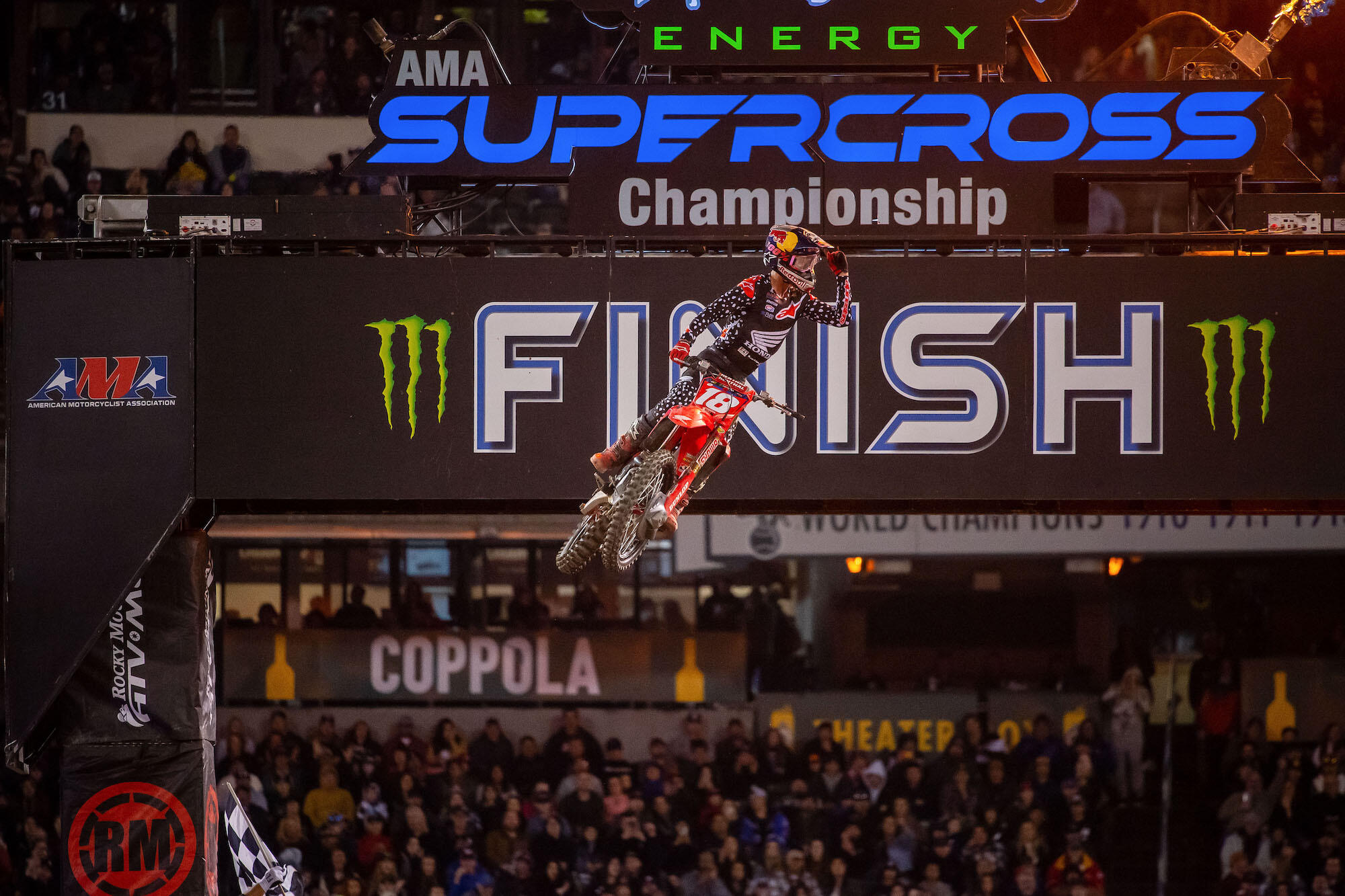 In the Western Regional 250SX Class Rockstar Energy Husqvarna Factory Racing's RJ Hampshire grabbed the Holeshot ahead of Monster Energy Pro Circuit Kawasaki's Cameron McAdoo, Jett Lawrence, BarX Suzuki's Matt Moss, and Muc-Off FXR ClubMX Yamaha's Enzo Lopes. The top three put down fast times and without battling each other pulled a gap on the rest of the field. Two minutes into the 15-minute plus one lap race only two seconds separated the top three. When McAdoo dropped his front end in the whoops Lawrence capitalized on the mistake. The Honda rider took over second place and set his sights on Hampshire 2.6 further up the track.
Troy Lee Designs Red Bull GASGAS Factory Racing's Pierce Brown had pushed forward from a bad start and soon was on McAdoo's rear wheel. Five minutes into the race Hampshire had extended his lead to 3.2 seconds while Lawrence, McAdoo, and Brown were clumped together in a battle for second. Then Hampshire lost the front end in a tight corner and gave up his advantage. He remounted as the pack of three was on him and pushed into the third place spot immediately.
From there Lawrence gradually pulled clear of the three racers behind him. A battle heated up directly behind that pack for fifth place between Red Bull KTM's Max Vohland, Monster Energy Yamaha Star Racing's Levi Kitchen, and Lopes. Hampshire reached second as Brown attacked McAdoo for third. Brown took the spot, but a mistake allowed McAdoo to block pass his way back by, taking Brown down in the process. Brown remounted right into a battle with Levi Kitchen for fourth.
Jett Lawrence had pulled more than a 15 second lead at the end of the race. He grabbed his third win in only four rounds of the division's season. Hampshire landed the second place spot, and McAdoo took third. It's worth noting both Hampshire and McAdoo are recovering from injuries and look to have more for Lawrence when the Western Regional 250SX Class resumes on March 25th.
The race series moves east next Saturday night, February 25th, to AT&T Stadium in Arlington, Texas for the second Triple Crown format race of the year. The event pits the racers against one another in three separate Main Events to determine the night's overall finishing order. The Texas race reactivates the Eastern Regional 250SX Class racers as well as hosts another SX Futures race of young talents competing to earn their pro racing license.
Like every 2023 Monster Energy AMA Supercross the event also pays points toward the brand-new SuperMotocross World Championship. The new series encompasses the Supercross and Pro Motocross seasons as well as two Playoff races leading to a Final. The 450 Class champion earns a $1,000,000 payout and the 250 Class champion pockets $500,000.
All 31 rounds of the premier off-road motorcycle series stream live on Peacock with select rounds broadcast domestically on NBC, USA Network, and CNBC. Tickets are on sale now for the eleven remaining 2023 Monster Energy AMA Supercross events, 11 Pro Motocross races, and two SuperMotocross Playoffs and Final. For the full race schedule as well as highlight videos, race results, and more, please go to SupercrossLIVE.com.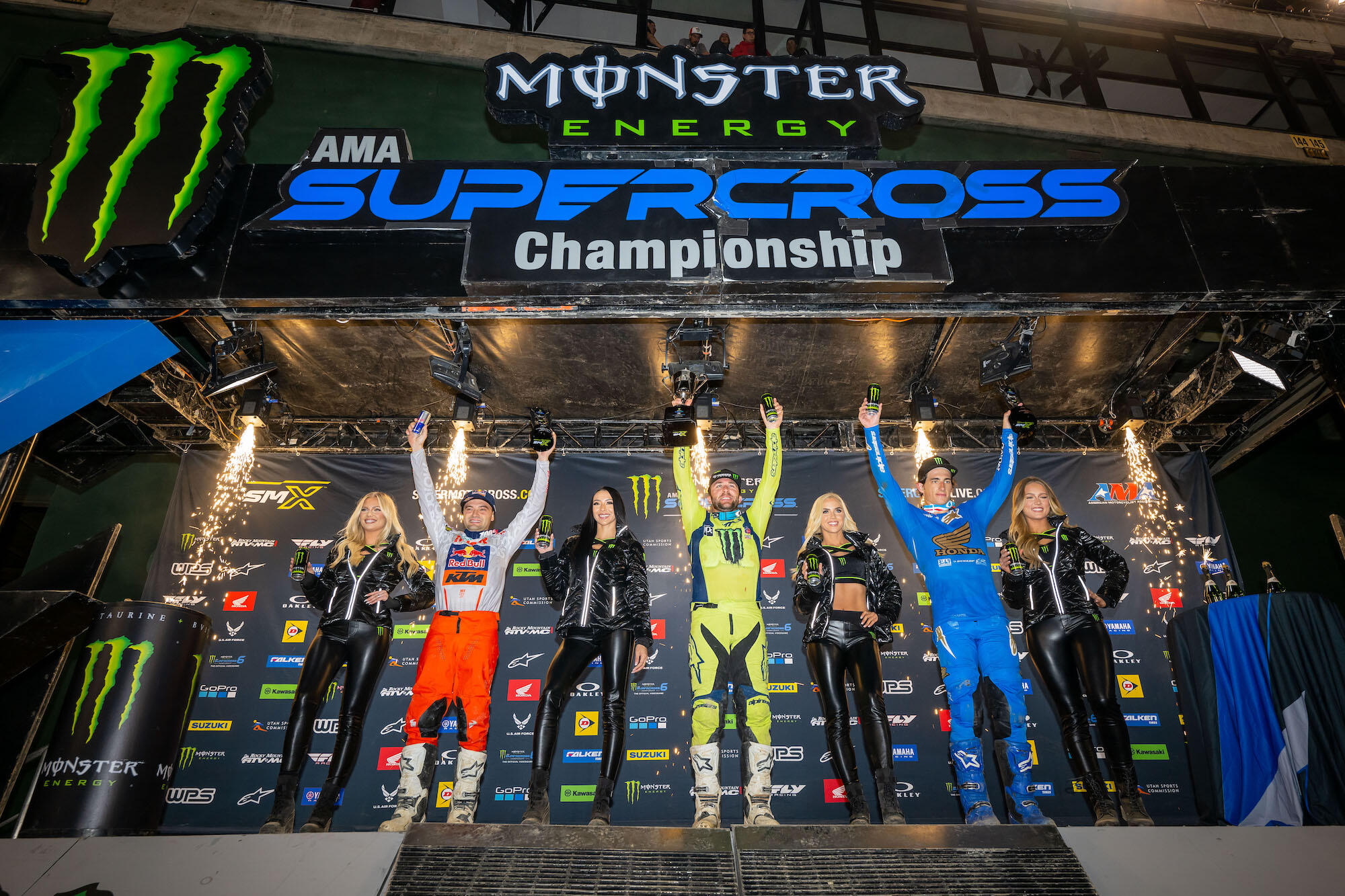 450SX Class Results
1. Eli Tomac, Cortez, Colo., Yamaha
2. Cooper Webb, Newport, N.C., KTM
3. Chase Sexton, Clermont, Fla., Honda
4. Aaron Plessinger, Hamilton, Ohio, KTM
5. Jason Anderson, Rio Rancho, N.M., Kawasaki
6. Justin Barcia, Greenville, Fla., GASGAS
7. Christian Craig, Clermont, Fla., Husqvarna
8. Joey Savatgy, Clermont, Fla., Kawasaki
9. Colt Nichols, Murrieta, Calif., Honda
10. Justin Cooper, Tallahassee, Fla., Yamaha
450SX Class Championship Standings
1. Eli Tomac, Cortez, Colo., Yamaha (139)
2. Cooper Webb, Newport, N.C., KTM (132)
3. Chase Sexton, Clermont, Fla., Honda (132)
4. Jason Anderson, Rio Rancho, N.M., Kawasaki (111)
5. Ken Roczen, Clermont, Fla., Suzuki (104)
6. Aaron Plessinger, Hamilton, Ohio, KTM (104)
7. Justin Barcia, Greenville, Fla., GASGAS (97)
8. Joey Savatgy, Clermont, Fla., Kawasaki (82)
9. Colt Nichols, Murrieta, Calif., Honda (75)
10. Christian Craig, Clermont, Fla., Husqvarna (75)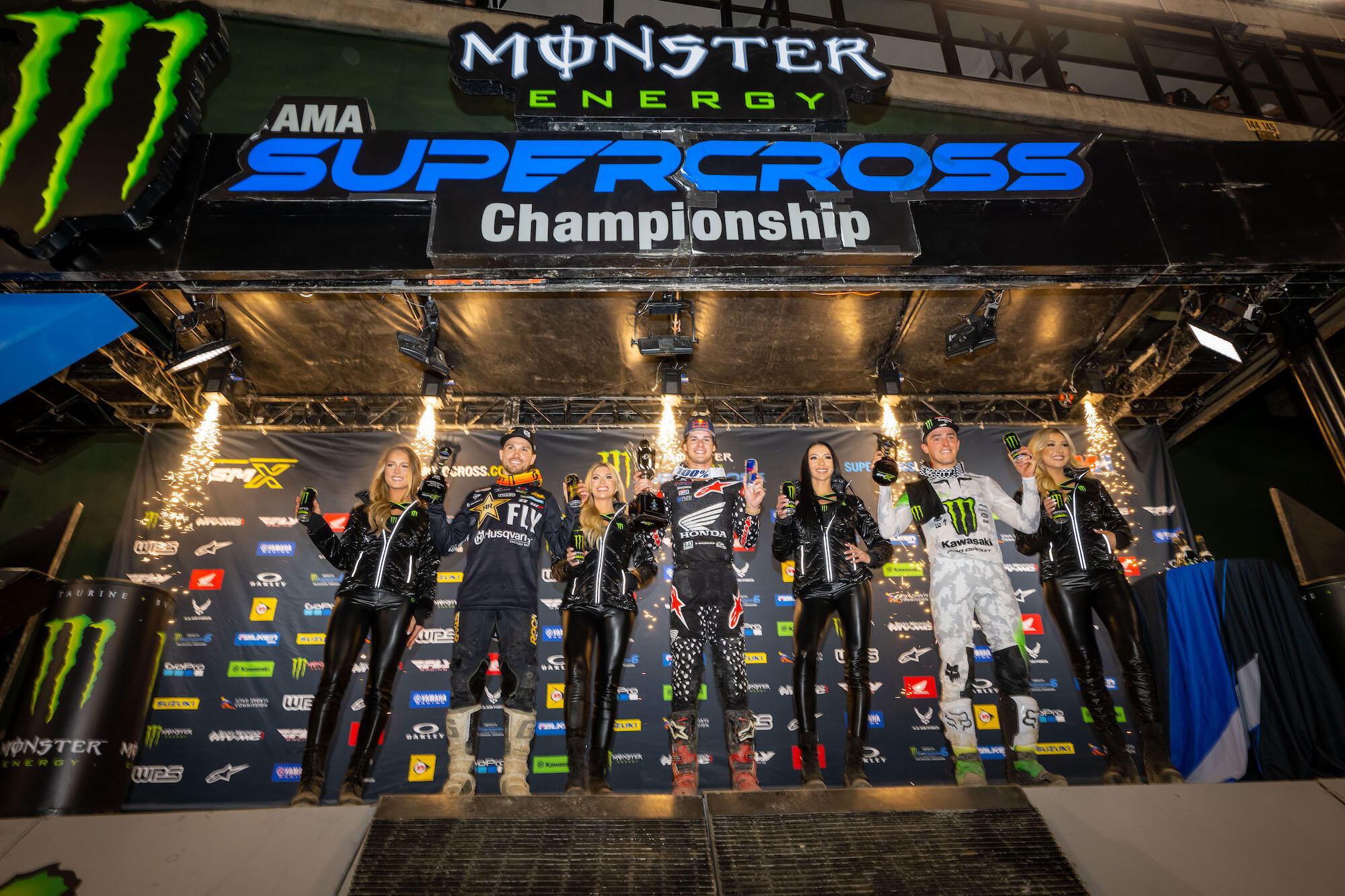 Western Regional 250SX Class Results
1. Jett Lawrence, Zephyrhills, Fla., Honda
2. RJ Hampshire, Minneola, Fla., Husqvarna
3. Cameron McAdoo, Sioux City, Iowa, Kawasaki
4. Levi Kitchen, Havana, Fla., Yamaha
5. Pierce Brown, Sandy, Utah, GASGAS
6. Enzo Lopes, Chesterfield, S.C., Yamaha
7. Max Vohland, Granite Bay, Calif., KTM
8. Mitchell Oldenburg, Godley, Tex., Honda
9. Cole Thompson, Brigden, Ontario, Yamaha
10. Mitchell Harrison, Leesburg, Fla., GASGAS
Western Regional 250SX Class Championship Standings
1. Jett Lawrence, Zephyrhills, Fla., Honda (101)
2. RJ Hampshire, Minneola, Fla., Husqvarna (81)
3. Cameron McAdoo, Sioux City, Iowa, Kawasaki (80)
4. Mitchell Oldenburg, Godley, Tex., Honda (69)
5. Levi Kitchen, Havana, Fla., Yamaha (63)
6. Enzo Lopes, Chesterfield, S.C., Yamaha (63)
7. Stilez Robertson, Bakersfield, Calif., Yamaha (52)
8. Max Vohland, Granite Bay, Calif., KTM (52)
9. Pierce Brown, Sandy, Utah, GASGAS (51)
10. Dylan Walsh, Wildomar, Calif., Kawasaki (49)