Tomac Grabs SX Win #50 in Seattle, Ties Championship
Monday, March 27, 2023 | 2:00 PM
Team Honda HRC's Chase Sexton won a MMonster Energy Yamaha Star Racing's Eli Tomac won Round 11 of the 2023 Monster Energy AMA Supercross season and reached the record book milestone of tying for second most 450SX Class wins with 50.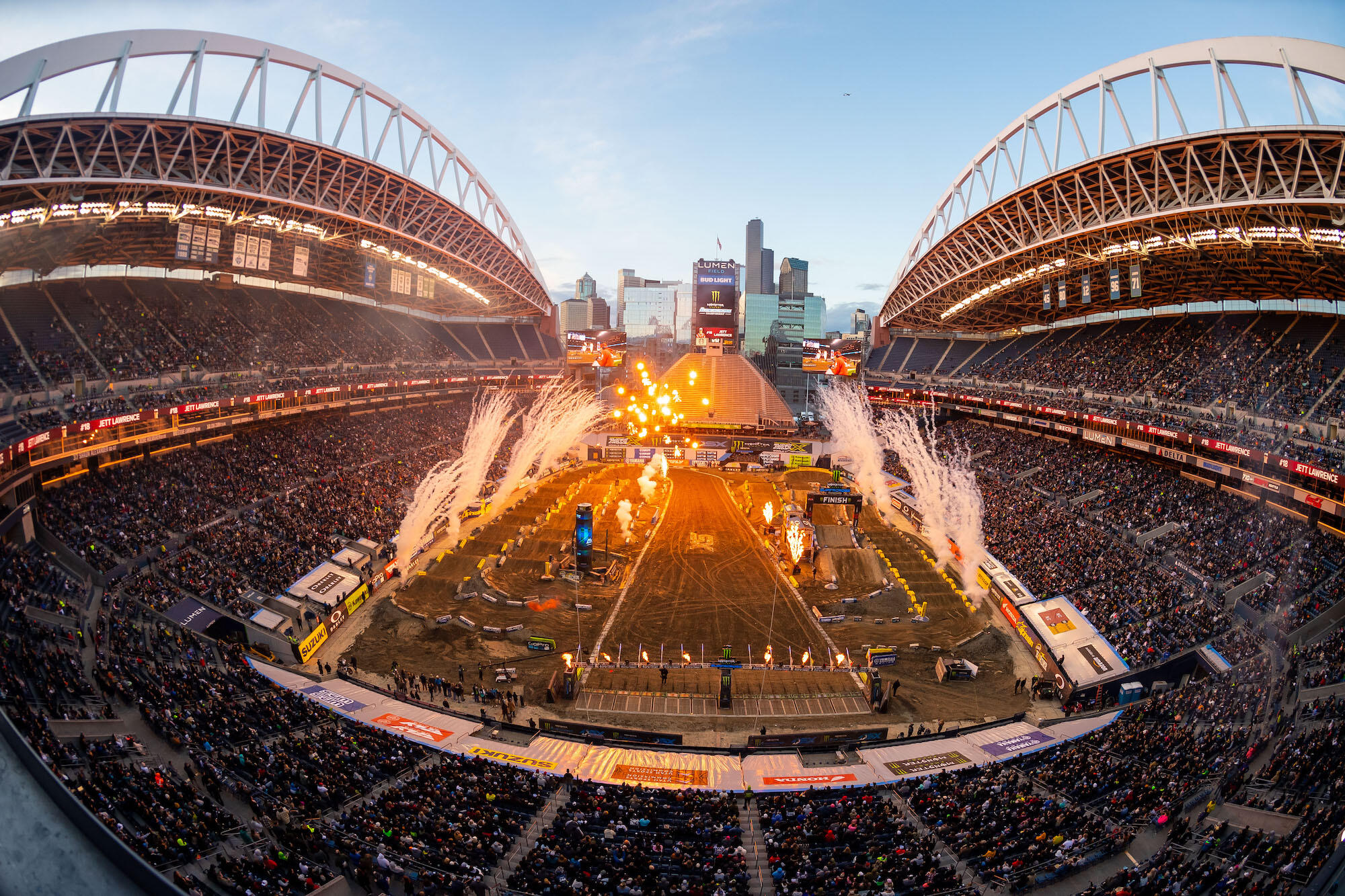 Red Bull KTM's Cooper Webb earned a second place finish to the cheers of 58,261 Seattle fans at Lumen Field. And Troy Lee Designs Red Bull GASGAS Factory Racing's Justin Barcia rounded out the podium, earning points for both the Supercross season and the inaugural 31-round SuperMotocross World Championship. The Western Regional 250SX Class returned to racing with Round five after a five-week break and Team Honda HRC's Jett Lawrence grabbed his fourth win of the season.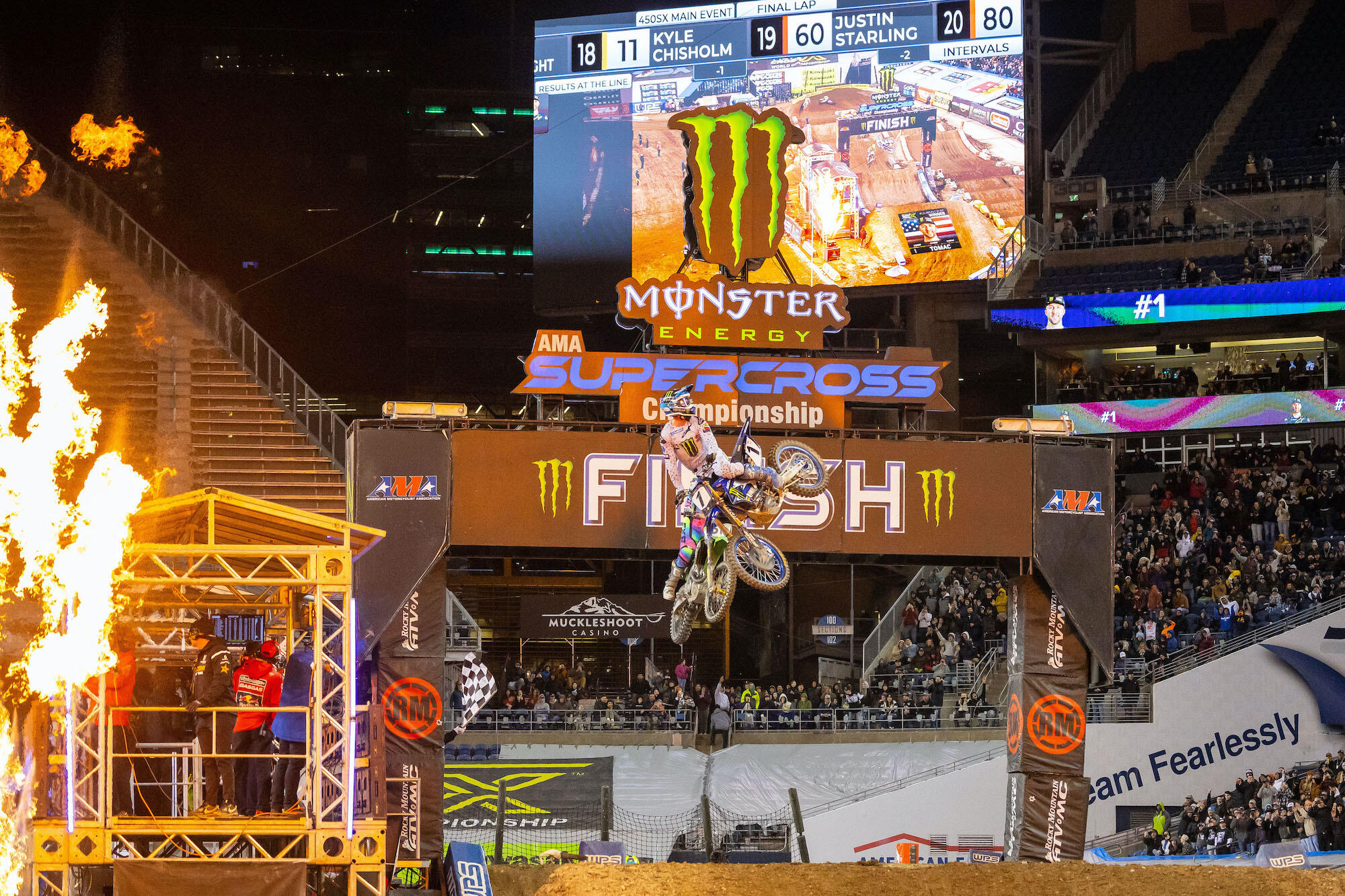 Tank Masters Red Line Oil Next Level KTM's Kevin Moranz grabbed the 450SX Class Main Event Holeshot and held the lead ahead of Team Honda HRC's Chase Sexton, Eli Tomac, Monster Energy Kawasaki's Adam Cianciarulo, and Progressive Insurance ECSTAR Suzuki's Ken Roczen. Roczen was on the move early and got by Tomac for third place just as Sexton took Moranz wide in a bowl turn. Moranz went over the berm, got hung up on Tuff Blox, and was well behind the pack before he got back onto the track.
With Sexton out in the lead, Tomac pressured Roczen to earn back second place. But two minutes into the 20-minute plus one lap race it was Cianciarulo who made a move happen. Tomac gave up the spot to Cianciarulo, then lost another position when Cooper Webb got by him. Tomac found himself in fifth place and going the wrong direction down the leader board. He wasted no time re-grouping and striking back; within thirty seconds Tomac had the spot back from Webb and 30 more seconds later broke free of Webb's re-pass attempts.
Sexton bobbled up front and Roczen closed the gap to under one second. The top five racers were still tightly bunched together. Four minutes into the race Tomac took back third and within two more laps was into second. Roczen momentarily took back the spot, but Tomac got around him again and set his sights on Sexton nearly three seconds up the track. Barcia was then the rider making headway, passing into fifth place and looking very fast on what was his 31st birthday.
Just before the race's midpoint Sexton washed his front end entering a corner. When the front wheel caught on a rut Sexton's off-balance momentum threw him off the bike. Tomac took over the lead with Roczen and Webb still close behind. With 9:45 showing on the race clock Webb got around Roczen for second and sat 2.3 seconds back from Tomac. In a race that did not start out well for Tomac and Webb, they'd each put themselves into position to win the night.
With 8:00 left on the race clock Barcia took over third. Sexton claimed fourth shortly after, and Monster Energy Kawasaki's Jason Anderson snatched fifth with 5:30 on the clock. In the final few laps the top three, Tomac, Webb, and Barcia, pulled clear of the rest of the racers but never got close enough to one another to challenge for the position. Anderson earned fourth before the checkers flew. Tomac and Webb's finishes brought the season's points standing to a tie for the lead. So after a rare weekend-off from racing, Tomac and Webb will face off again with both the #1 Yamaha and #2 KTM running the red number plate that signifies the season's points leader. Interestingly, Tomac's milestone 50th Supercross win comes in the year Supercross celebrates its 50th year of racing since the inception of the sport.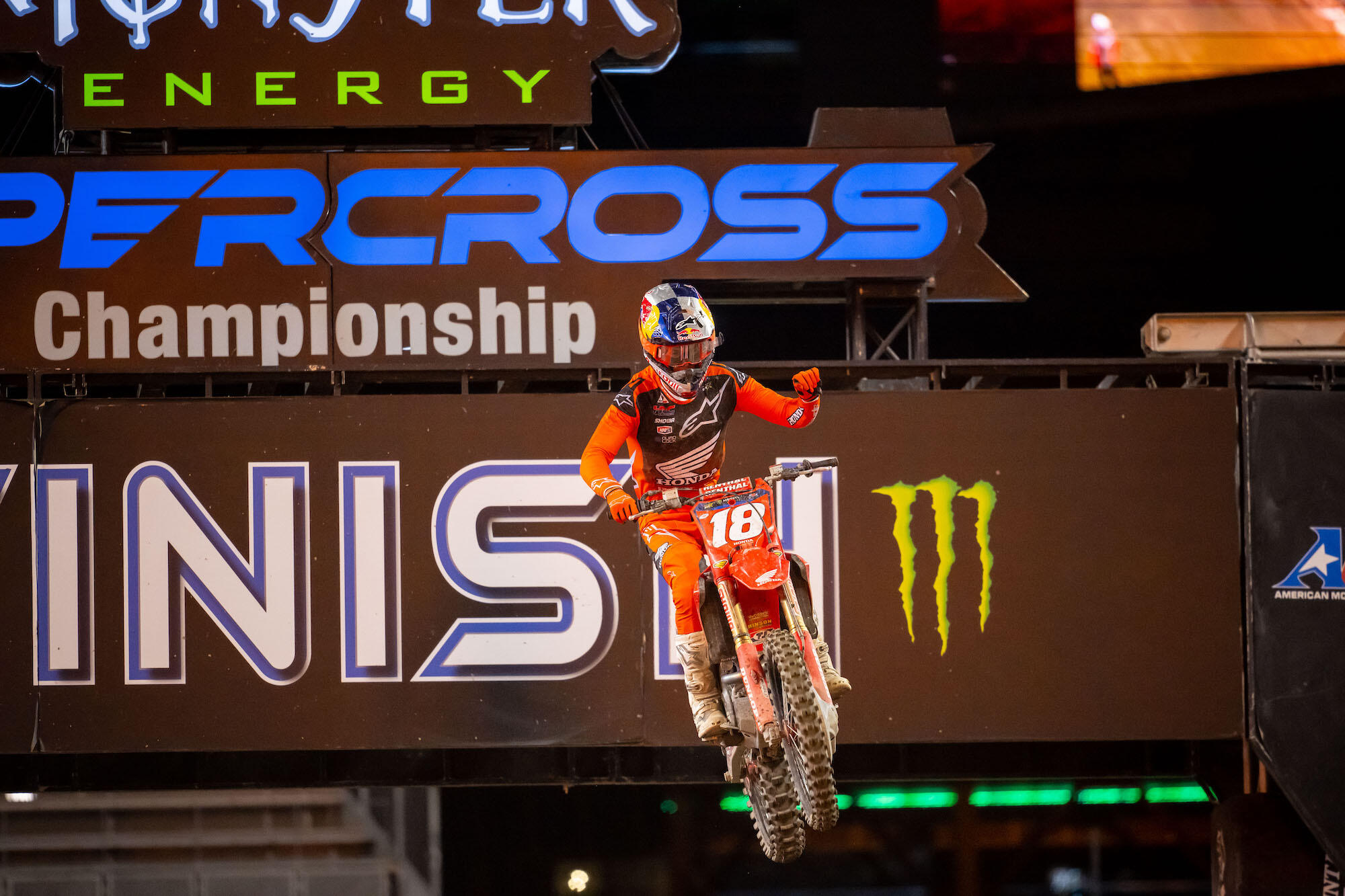 In Western Regional 250SX Class racing, Monster Energy Yamaha Star Racing's Stilez Robertson grabbed the Holeshot and led the aggressive pack of 250cc racers. Partzilla PR-MX Racing's Hunter Yoder held second with Rockstar Energy Husqvarna Factory Racing's RJ Hampshire, Jett Lawrence, Monster Energy Pro Circuit Kawasaki's Cameron McAdoo and Smartop MotoConcepts Racing Honda's Mitchell Oldenburg right behind. Just one minute into the 15-minute plus one lap race Lawrence was into second and started to reel in Robertson. One lap later Lawrence was in position to replicate his pass move and take the lead, but Robertson held strong. As Robertson commanded the race through speed and defensive lines, McAdoo reached third ahead of Hampshire. Soon McAdoo was up to the leaders and it looked like it would be a three-rider race for the win.
With 10:30 on the race clock Lawrence got around Robertson and into the lead. A half lap later Robertson crashed hard exiting the whoops and was out of the race. Hampshire attacked McAdoo and took over second with Monster Energy Yamaha Star Racing's Levi Kitchen close in fourth place. From there Hampshire and McAdoo battled and traded the second place spot. As the top three weaved through lappers the gap to Lawrence close at times but the lead was never in jeopardy. Hampshire got the final pass for the second place spot with the white flag in sight. At the checkered flag Lawrence took the win with Hampshire in second, McAdoo third, and Muc-Off FXR ClubMX Yamaha's Enzo Lopes reaching fourth place.
The Monster Energy AMA Supercross series takes a rare break next weekend when the racers face off again inside State Farm Stadium in Glendale, Arizona on April 8th. The event will mark Round 12 of the 17-round Supercross series as well as Round 12 of the brand-new 31-round SuperMotocross World Championship. The new SuperMotocross League encompasses every Monster Energy AMA Supercross round and every AMA Pro Motocross round and culminates with two Playoff rounds and a Final all held at landmark sports venues in September. The SuperMotocross League pays a cool $1,000,000 to the 450 class champion and $500,000 to the 250 class champion.
All 31-rounds of the SuperMotocross World Championship are streamed live on Peacock with select rounds also broadcast on NBC, USA Network, and CNBC. Race fans outside of the U.S. can find coverage at SuperMotocross.tv. For the full schedule, video highlights, ticket sales, and more please go to SupercrossLIVE.com.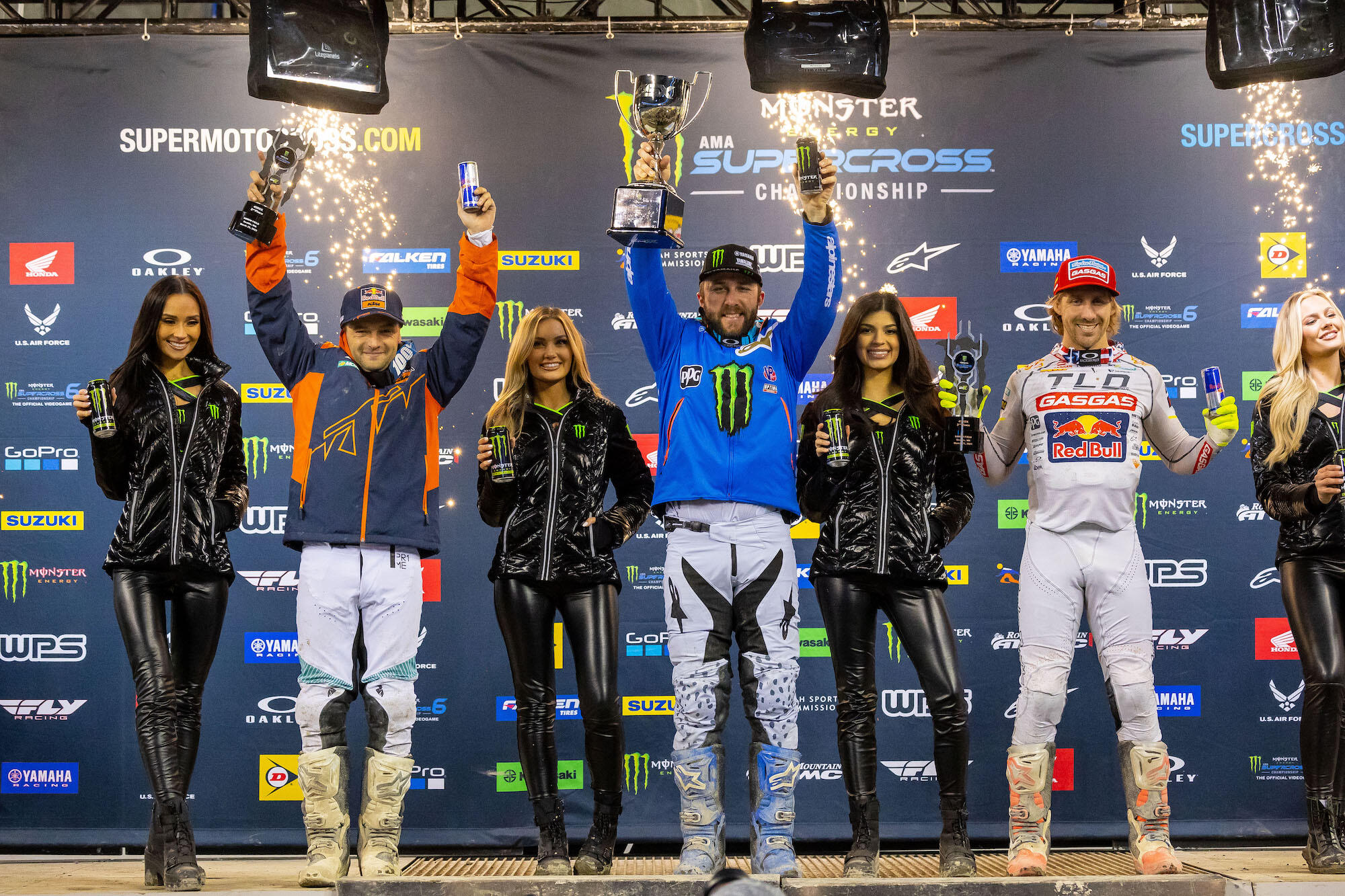 450SX Class Results
1. Eli Tomac, Cortez, Colo., Yamaha
2. Cooper Webb, Newport, N.C., KTM
3. Justin Barcia, Greenville, Fla., GASGAS
4. Jason Anderson, Rio Rancho, N.M., Kawasaki
5. Chase Sexton, Clermont, Fla., Honda
6. Ken Roczen, Mattstedt, Germany, Suzuki
7. Aaron Plessinger, Hamilton, Ohio, KTM
8. Adam Cianciarulo, New Smyrna Beach, Fla., Kawasaki
9. Christian Craig, Clermont, Fla., Husqvarna
10. Justin Hill, Yoncalla, Ore., KTM
450SX Class Championship Standings
1. Eli Tomac, Cortez, Colo., Yamaha (248)
2. Cooper Webb, Newport, N.C., KTM (248)
3. Chase Sexton, Clermont, Fla., Honda (226)
4. Ken Roczen, Mattstedt, Ger., Suzuki (199)
5. Jason Anderson, Rio Rancho, N.M., Kawasaki (199)
6. Justin Barcia, Greenville, Fla., GASGAS (195)
7. Aaron Plessinger, Hamilton, Ohio, KTM (180)
8. Christian Craig, Clermont, Fla., Husqvarna (150)
9. Adam Cianciarulo, New Smyrna Beach, Fla., Kawasaki (122)
10. Justin Hill, Yoncalla, Ore., KTM (116)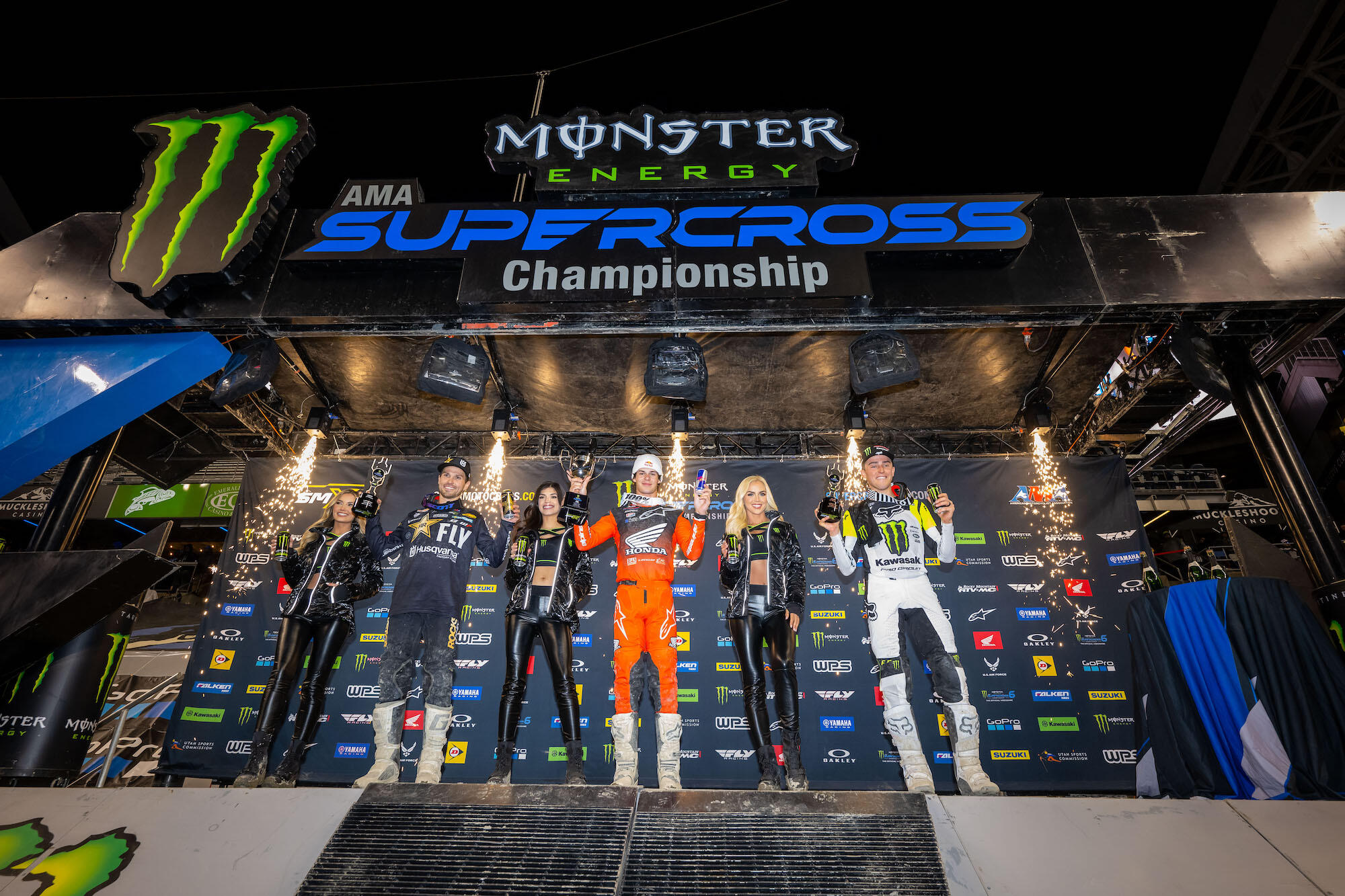 Western Regional 250SX Class Results
1. Jett Lawrence, Landsborough, Qld., Australia, Honda
2. RJ Hampshire, Minneola, Fla., Husqvarna
3. Cameron McAdoo, Sioux City, Iowa, Kawasaki
4. Enzo Lopes, Rio Grande do Sul, Brazil, Yamaha
5. Max Vohland, Granite Bay, Calif., KTM
6. Levi Kitchen, Washougal, Wash., Yamaha
7. Pierce Brown, Sandy, Utah, GASGAS
8. Carson Mumford, Simi Valley, Calif., Kawasaki
9. Mitchell Oldenburg, Godley, Tex., Honda
10. Cole Thompson, Brigden, Ont., Canada, Yamaha
Eastern Regional 250SX Class Championship Standings
1. Jett Lawrence, Landsborough, Qld., Australia, Honda (127)
2. RJ Hampshire, Minneola, Fla., Husqvarna (104)
3. Cameron McAdoo, Sioux City, Iowa, Kawasaki (101)
4. Mitchell Oldenburg, Godley, Tex., Honda (83)
5. Enzo Lopes, Rio Grande do Sul, Brazil, Yamaha (82)
6. Levi Kitchen, Washougal, Wash., Yamaha (80)
7. Max Vohland, Granite Bay, Calif., KTM (70)
8. Pierce Brown, Sandy, Utah, GASGAS (67)
9. Cole Thompson, Brigden, Ont., Canada, Yamaha (59)
10. Stilez Robertson, Bakersfield, Calif., Yamaha (53)