Results: 2023 MotoSport.com Washougal National
Sunday, July 23, 2023 | 1:15 AM
Another 1-1 at Washougal Extends Jett Lawrence's Perfect Season Through Eight Rounds in
2023 Pro Motocross Championship
Rookie Haiden Deegan Captures First Career Moto Sweep
in 250 Class to Tighten Championship Battle
The 2023 Pro Motocross Championship, sanctioned by AMA Pro Racing, made its final appearance on the West Coast on Saturday with its annual visit to the Pacific Northwest and the scenic landscape of Washougal MX Park. Abundant sunshine and temperatures in the mid-80's provided ideal conditions for the MotoSport.com Washougal National, presented by Peterson CAT, as the perfect season by Team Honda HRC's Jett Lawrence in his first 450 Class campaign continued with another assertive performance from the young Australian for his eighth straight overall win and 15th and 16th moto victories. In the 250 Class, rookie Haiden Deegan enjoyed the best outing of his young career with an impressive effort that saw the Monster Energy Yamaha Star Racing rider go 1-1 for the first time to tighten up the championship battle with his second win of the season.
Moto 1
The opening moto of the premier class began with the Monster Energy Yamaha Star Racing machine of Dylan Ferrandis out front just ahead of Lawrence while his Team Honda HRC teammate Chase Sexton battled his way into third. Ferrandis kept Lawrence at bay to lead the opening lap, which made him just the third different rider to do so this season and ended a 105 laps-led streak by Lawrence.
The Frenchman maintained his hold of the lead for another lap but Lawrence was able to make the pass and grab control of the moto. Ferrandis gave pursuit from second as Sexton looked to close in from third. As the moto continued the lead trio settled into their respective positions on the track while Monster Energy Kawasaki's Jason Anderson kept them honest in fourth.
At the 15-minute mark Sexton mounted his attack on Ferrandis and seized the moment to grab second. At that point, Sexton sat 6.5 seconds behind his teammate and looked to log his fastest laps of the moto to try and close the gap. However, Lawrence didn't let up and extended the lead to 7.5 seconds.
Lawrence maintained his lead the rest of the way and extended his undefeated streak to 15 motos, crossing the finish line 7.9 seconds ahead of Sexton, who was never challenged in second. Ferrandis fended off a pair of challenges by Anderson to secure third, while Anderson settled for fourth and his Monster Energy Kawasaki teammate Adam Cianciarulo in fifth.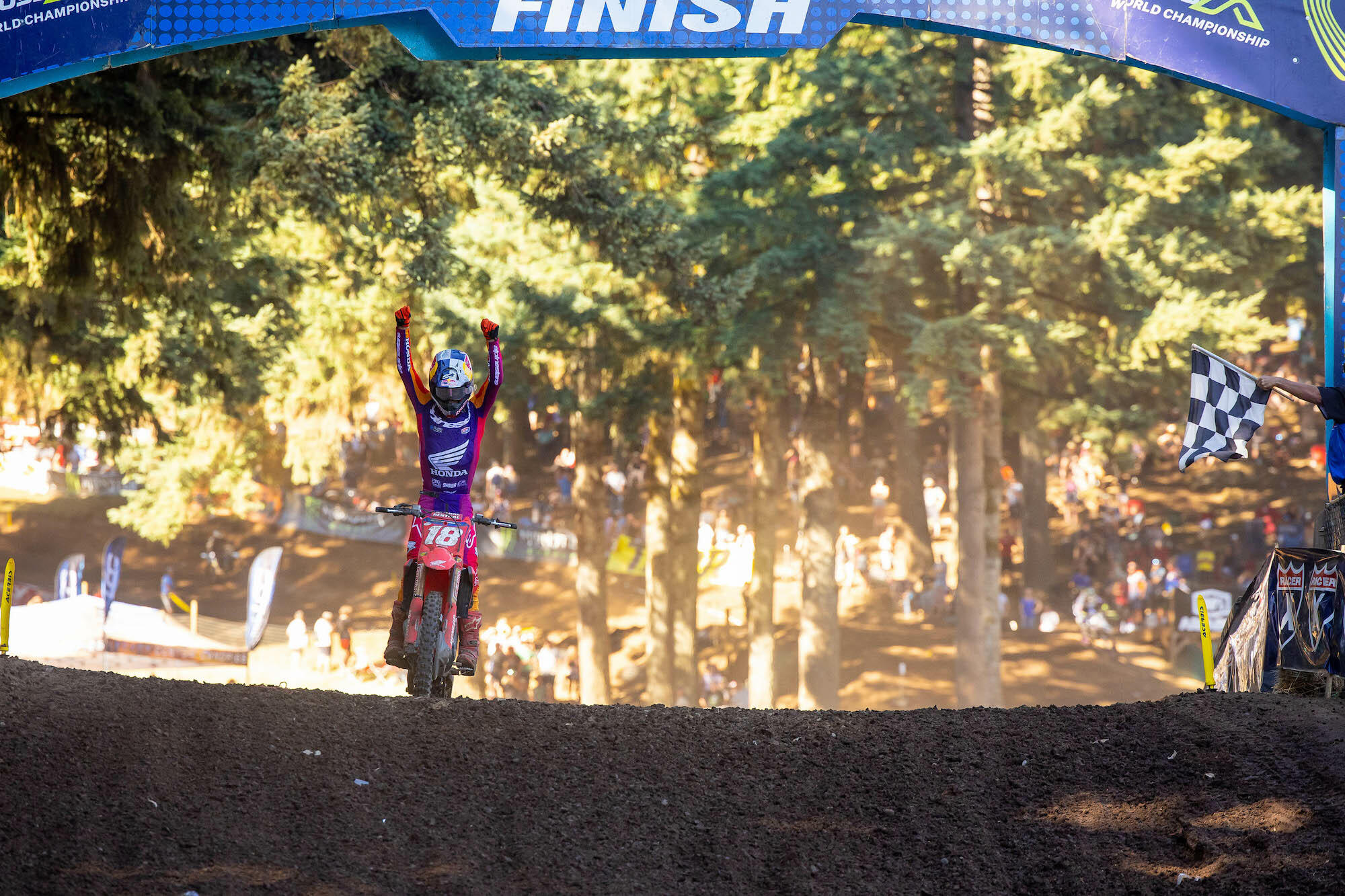 Moto 2
The second and final moto of the afternoon got underway with a gate malfunction, which necessitated a red flag and restart for the 40-rider field. On the restart it was Plesssinger out front for the MotoSport.com Holeshot as Lawrence and Sexton duked it out for second, from which Lawrence grabbed control of the position. Anderson slotted into fourth with Ferrandis in fifth.
The clear track paid dividends for Plessinger as he was able to maintain his hold of the lead through the opening five minutes as Lawrence appeared to settle in and bide his time, maintaining his advantage over Sexton in third. With about 10 minutes down in the moto Lawrence closed in, looked for a way by and made a quick and decisive pass on Plessinger to take control of the moto. Plessinger then waged battle with Sexton for second, with the Honda rider able to make a quick pass to try and keep his teammate within reach.
About 2.5 seconds separated the Honda riders as the moto approached the halfway point, with both riders trading momentum. Sexton appeared to be the slightly faster rider and was able to cut the gap to under two seconds. The distance between the duo continued to tighten as the moto surpassed the 15-minute mark.
The lead stabilized between 1.3 to 1.5 seconds through the heart of the moto as both riders continued to play the on-track chess match. As they approached lapped riders the battle shifted into Lawrence's favor as the lead grew to two seconds. With three minutes to go the teammates were closer than they'd been all moto, separated by just over a second. Both riders waited for the moment to pick up the pace for one final push, but the potential battle ended when Sexton briefly tipped over.
The lead grew to nearly 10 seconds by the time Sexton resumed, which allowed Lawrence to keep the unbeaten streak intact. Lawrence wrapped up moto win 16 by three seconds over Sexton, while Plessinger parlayed his holeshot into a third-place effort, just ahead of Anderson.
Overall
Lawrence's latest 1-1 performance signified his first ever moto wins at Washougal as his quest for a perfect season has surpassed eight rounds, with three remaining. His eighth career win breaks the Aussie into the top 20 on the all-time wins list. Sexton settled for his fourth straight runner-up effort (2-2), while Anderson became the newest rider this season to finish on the overall podium in third (4-4).
Lawrence's massive lead in the 450 Class standings has grown to 95 points over Ferrandis, who finished fourth overall (3-5), while Plessinger's fifth-place finish (7-3) allowed him to maintain his hold of third, 120 points behind Lawrence.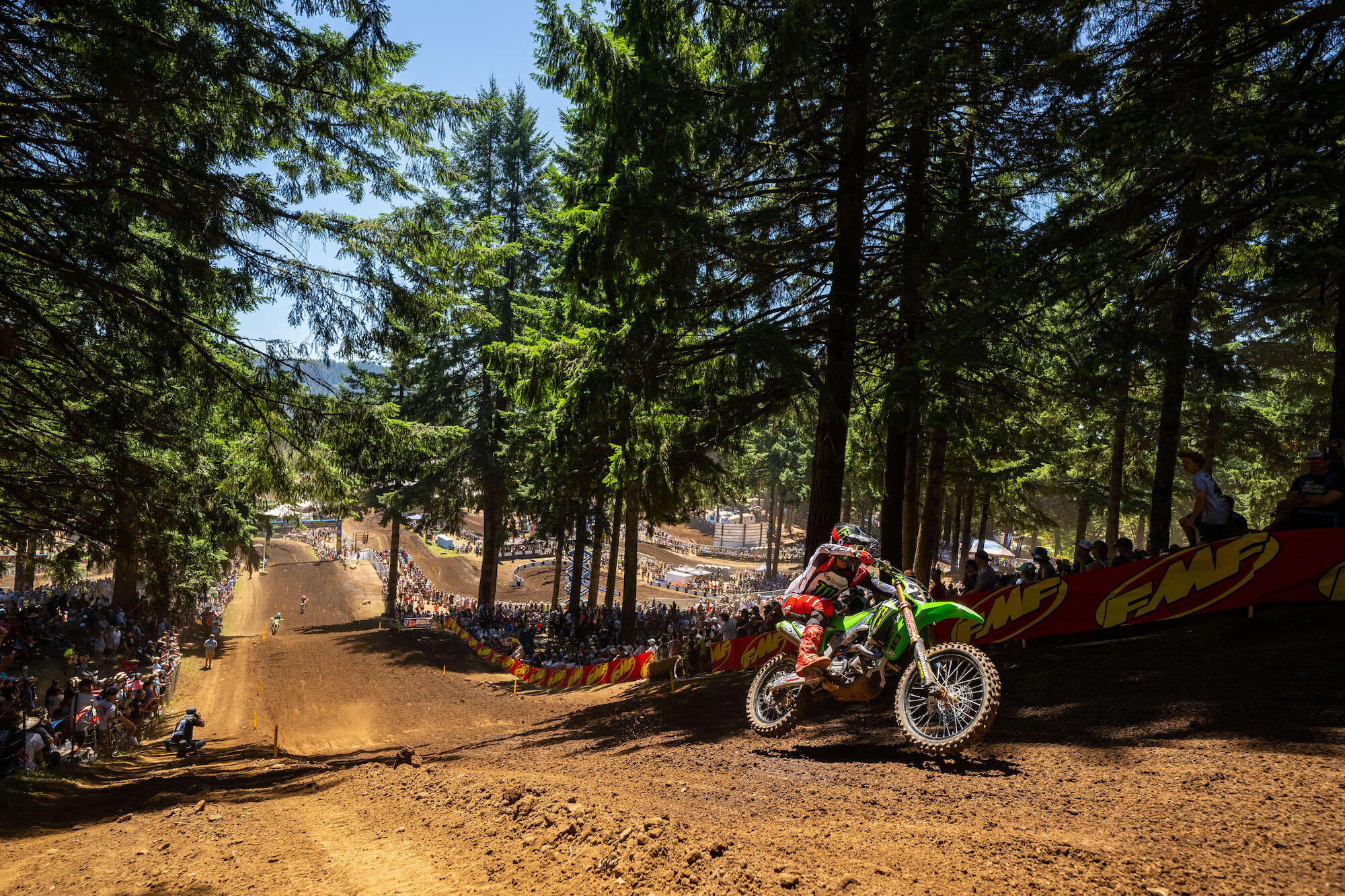 Jett Lawrence, Team Honda HRC
"There's a first time for everything [winning at Washougal]. I was pumped to make my way around Chase [Sexton] on the start. I was a little down on myself [in the final moto] and I was hoping [Sexton] was feeling as [tired] as I was. Then he went down, so that's a bummer. This has been a surreal season so far."
Chase Sexton, Team Honda HRC
"I was starting to get closer [to Lawrence] in the later stages of that [last] race. I came into a corner and stalled it. I felt like I had good speed and could put in a charge to catch him, but I didn't know where I'd pass him. Another solid weekend, not what I wanted, but we'll keep trying to get better."
Jason Anderson, Monster Energy Kawasaki
"It's been a long year, getting hurt and coming back. These outdoors don't get any easier as I get older, but I'm enjoying it. I want to be battling those guys up front, but I'm so happy to be up here."
Moto 1
The first 250 Class moto began with Deegan leading the field through the first turns and to the MotoSport.com Holeshot aboard his Yamaha, followed closely by Monster Energy Yamaha Star Racing teammate Justin Cooper and Red Bull KTM Factory Racing's Max Vohland. Further back, championship leader and Team Honda HRC rider Hunter Lawrence looked to move forward from a start deep inside the top 10.
A clear track serves as a major advantage at Washougal, and it allowed Deegan to quickly establish a multi-second lead over Cooper, who soon settled into second. As the moto surpassed its first 10 minutes Deegan extended his lead even further, to more than five seconds on the field. Cooper continued to maintain control of second, while Vohland gave chase from third. Not far behind Lawrence was on a march to the front, picking off riders to break into the top five.
Just past the halfway point of the moto Lawrence made the pass on Monster Energy/Pro Circuit/Kawasaki's Seth Hammaker for fourth and quickly closed in on Vohland to apply pressure on third. Lawrence was patient and made the pass to take control of third and then looked to close in on Cooper. As they entered the final five minutes of the moto Lawrence's pursuit of Cooper allowed both riders to erase some of the deficit to Deegan.
A determined Lawrence made a savvy pass on Cooper to move into second and had just over two minutes and two laps to try and catch Deegan as the leaders started to navigate heavy lapped traffic. Deegan's lead stabilized at around four seconds during the final two laps, and he carried on to capture his second career moto win. He crossed the finish line 2.7 seconds ahead of Lawrence, with Cooper in third. Rockstar Energy Husqvarna Factory Racing's RJ Hampshire followed in fourth, while Vohland held on for fifth.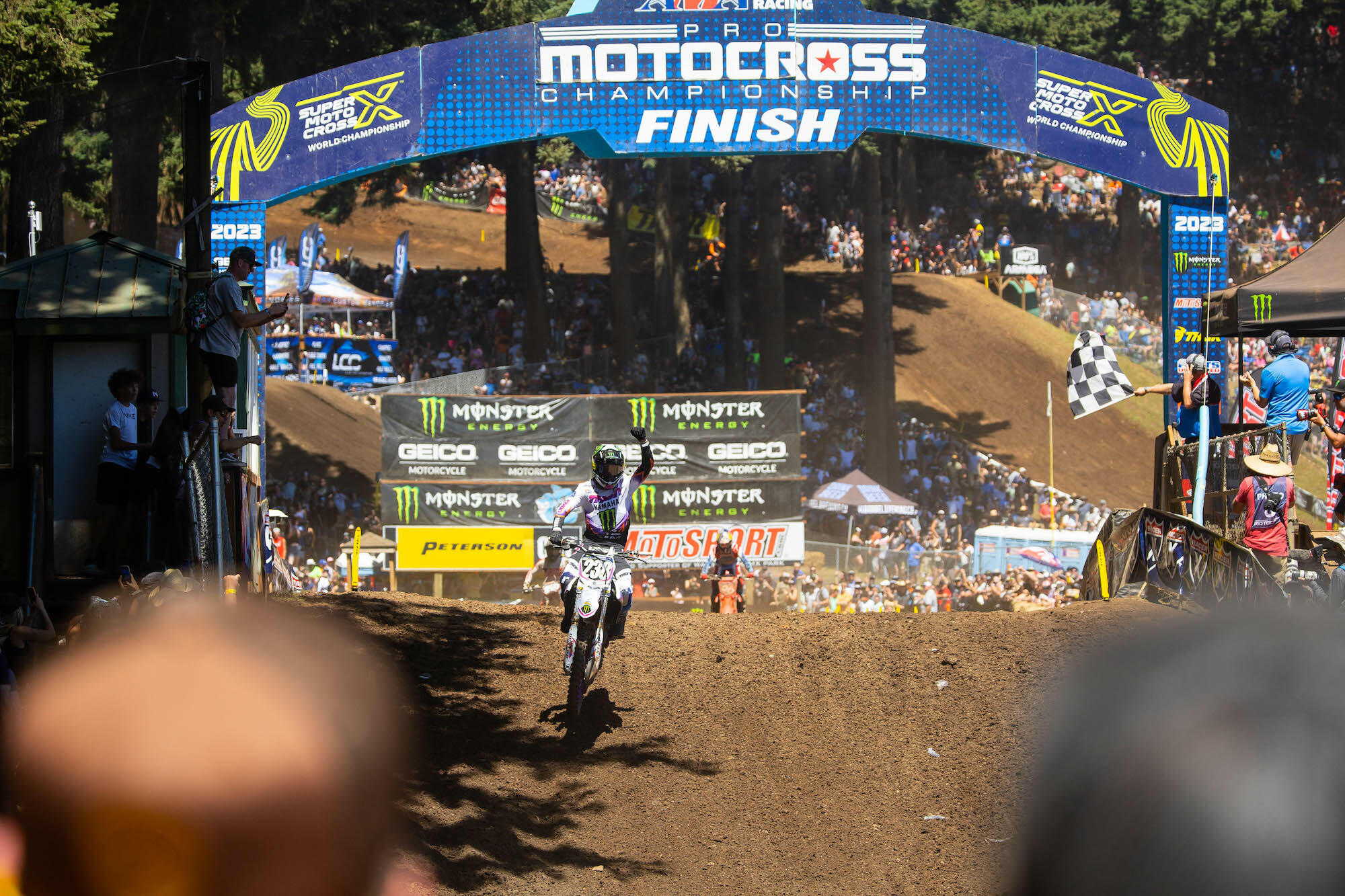 Moto 2
The second and deciding moto kicked off with a trio of Monster Energy Yamahas at the head of the pack as Cooper secured the MotoSport.com Holeshot just ahead of Washougal native Levi Kitchen and Deegan, who gave up third to Hammaker. Lawrence started just outside the top five in sixth behind Hampshire.
After Deegan made the pass on Hammaker for third the field settled in through the opening five minutes of the moto until Hampshire tucked his front end and tipped over, which allowed Lawrence to assume fifth. The battle back up front intensified as Kitchen looked to put pressure on Cooper, which allowed Deegan to close in from third. Behind the leaders Lawrence made the pass on Hammaker for fourth and quickly closed in on Deegan's rear fender to establish a four-rider battle out front, separated by less than four seconds.
In his pursuit of Deegan as miscue by Deegan put Lawrence on the ground. He remounted quickly but dropped to fifth as Hammaker re-assumed fourth. Back up front, Deegan refocused his attention on his teammates and looked to mount an attack on Kitchen for second. The rookie showed patience and took advantage of an alternate line to cut under Kitchen and take over the runner-up spot for a pass that was significant in the overall classification.
Just past the halfway point of the moto 4.9 seconds separated Cooper and Deegan. A few positions behind, Lawrence was able to track down Hammaker and reclaim fourth. As Kitchen and Lawrence engaged in a battle for third, Deegan started to chip away at his deficit to Cooper.
As the moto clock entered its final three minutes Deegan had closed in to within just over two seconds of Cooper. He continued to inch closer as his late charge got the rookie within a second of Cooper. Once there Deegan posted the single-fastest lap of the entire event to storm past Cooper and seize the lead with less than a minute remaining.
Deegan closed out the moto emphatically, with lap times multiple seconds faster than anyone else on the track. His lead surged to nearly double digits as he took the white flag. Deegan cruised home to wrap up his first career moto sweep, taking the checkered flag 7.9 seconds ahead of Cooper, while Kitchen completed the Yamaha sweep of the moto podium in third, just ahead of Lawrence.
Overall
The first ever 1-1 effort by Deegan was also the first in the division for the 2023 season. The rookie's second career victory came on a day in which Yamaha kicked off the global 50th anniversary celebration of its YZ motocross model, Deegan's YZ250F adorned in white, purple, and pink plastics that harkened back to the vibrant aesthetic of the 90's era of the sport. Cooper earned his fifth runner-up finish of the season (3-2), while Lawrence held on for third (2-4).
Deegan's dominant afternoon allowed him to gain 10 points on Lawrence in the 250 Class standings, as now just three points sit between the two most successful riders in the division this summer with three rounds and six motos remaining. Cooper's second-place finish vaulted him up to third, 19 points out of the lead.
Haiden Deegan, Monster Energy Yamaha Star Racing
"Those last few laps I put my heart into this thing. It's nerve wracking [for me] and I'm sure it is for Hunter [Lawrence] as well [as we battle for the championship]. I'm glad to put America back on top of the podium."
Justin Cooper, Monster Energy Yamaha Star Racing
"I felt good all day during the motos. All the way up until 25 minutes in the second moto. I was pushing and trying to pull a gap, but I could tell I was fading to Haiden [Deegan]. I did all I could, but he was flying, so I just settled in from there."
Hunter Lawrence, Team Honda HRC
"Tough day at the office. I've just got to be better. This is a very tough track. I didn't get a great start, so we got to go back, get back to 100-percent health, and come out swinging for the final three rounds."
Washougal National - 450 Class
| | Rider | Hometown | Motos | |
| --- | --- | --- | --- | --- |
| 1 | Jett Lawrence | Landsborough, Australia | 1 - 1 | |
| 2 | Chase Sexton | La Moille, IL | 2 - 2 | |
| 3 | Jason Anderson | Edgewood, NM | 4 - 4 | |
| 4 | Dylan Ferrandis | Avignon, France | 3 - 5 | |
| 5 | Aaron Plessinger | Hamilton, OH | 7 - 3 | |
| 6 | Adam Cianciarulo | Port Orange, FL | 5 - 7 | |
| 7 | Garrett Marchbanks | Coalville, UT | 8 - 6 | |
| 8 | Ty Masterpool | Fallon, NV | 6 - 8 | |
| 9 | Phil Nicoletti | Cochecton, NY | 11 - 9 | |
| 10 | Colt Nichols | Muskogee, OK | 10 - 10 | |
Full Results
450 Class Standings - 2023
| | Rider | Hometown | Points |
| --- | --- | --- | --- |
| 1 | Jett Lawrence | Landsborough, Australia | 550 |
| 2 | Dylan Ferrandis | Avignon, France | 399 |
| 3 | Aaron Plessinger | Hamilton, OH | 386 |
| 4 | Chase Sexton | La Moille, IL | 338 |
| 5 | Adam Cianciarulo | Port Orange, FL | 328 |
| 6 | Garrett Marchbanks | Coalville, UT | 255 |
| 7 | Ty Masterpool | Fallon, NV | 242 |
| 8 | Fredrik Noren | Lidköping, Sweden | 219 |
| 9 | Jason Anderson | Edgewood, NM | 207 |
| 10 | Grant Harlan | Justin, TX | 176 |
Full Standings
Washougal National - 250 Class
| | Rider | Hometown | Motos | |
| --- | --- | --- | --- | --- |
| 1 | Haiden Deegan | Temecula, CA | 1 - 1 | |
| 2 | Justin Cooper | Cold Spring Harbor, NY | 3 - 2 | |
| 3 | Hunter Lawrence | Landsborough, Australia | 2 - 4 | |
| 4 | R.J. Hampshire | Hudson, FL | 4 - 5 | |
| 5 | Levi Kitchen | Washougal, WA | 8 - 3 | |
| 6 | Seth Hammaker | Bainbridge, PA | 7 - 6 | |
| 7 | Jo Shimoda | Suzuka City, Mie Prefecture, Japan | 6 - 7 | |
| 8 | Max Vohland | Sacramento, CA | 5 - 8 | |
| 9 | Carson Mumford | Simi Valley, CA | 9 - 9 | |
| 10 | Pierce Brown | Sandy, UT | 12 - 11 | |
Full Results
250 Class Standings - 2023
| | Rider | Hometown | Points |
| --- | --- | --- | --- |
| 1 | Hunter Lawrence | Landsborough, Australia | 419 |
| 2 | Justin Cooper | Cold Spring Harbor, NY | 399 |
| 3 | Jo Shimoda | Suzuka City, Mie Prefecture, Japan | 393 |
| 4 | Haiden Deegan | Temecula, CA | 371 |
| 5 | Levi Kitchen | Washougal, WA | 322 |
| 6 | Tom Vialle | Avignon, France | 302 |
| 7 | Max Vohland | Sacramento, CA | 295 |
| 8 | R.J. Hampshire | Hudson, FL | 288 |
| 9 | Jalek Swoll | Belleview, FL | 221 |
| 10 | Ryder DiFrancesco | Bakersfield, CA | 208 |
Full Standings