Recap: RedBud National Amateur Day
Monday, July 15, 2019 | 6:00 PM
2019 RedBud Amateur Day Report:
Amateur racing invades legendary RedBud MX
Amateur racing invaded RedBud MX on Sunday, July 7, for RedBud Amateur Motocross Days, held in conjunction with the Circle K RedBud National, Round 7 of the Lucas Oil Pro Motocross Championship in Buchanan, Michigan.
Amateur Days are part of MX Sports Pro Racing's expanded amateur racing program, which provides some of the fastest amateurs in the country an opportunity to compete on the same course as the top professionals in the world. The program was established to promote the continued growth of the amateur racing component of the world's most prestigious off-road motorcycle racing series – the Lucas Oil Pro Motocross Championship.
Among the many amateur winners at RedBud MX was Christopher Blackmer (Yam), who stood out in the Schoolboy 1 class. Blackmer made a last-lap pass on Blood Money Racing teammate Caden Switzer (KTM) to win the first moto, and then backed it up with a start-to-finish victory in moto two.
"I didn't get a very good start in the first moto," said Blackmer. "I was in second or third, but I was able to work my way up and I ended up passing Caden in the next to last turn to win it."
Getting to race the same track that the pros race the day before was a highlight of the weekend for Blackmer.
"I always like coming to RedBud, and getting to ride the pro track was exciting," said Blackmer. "It's pretty cool because you're thinking, 'I'm riding the same exact corner that Eli Tomac or Barcia rode'. I always think it's pretty cool to do that."
Caden Switzer ended up in the runner-up slot behind Blackmer with a 2-2 moto tally, while Brandon DeYoung (Yam) went 3-5 for third overall.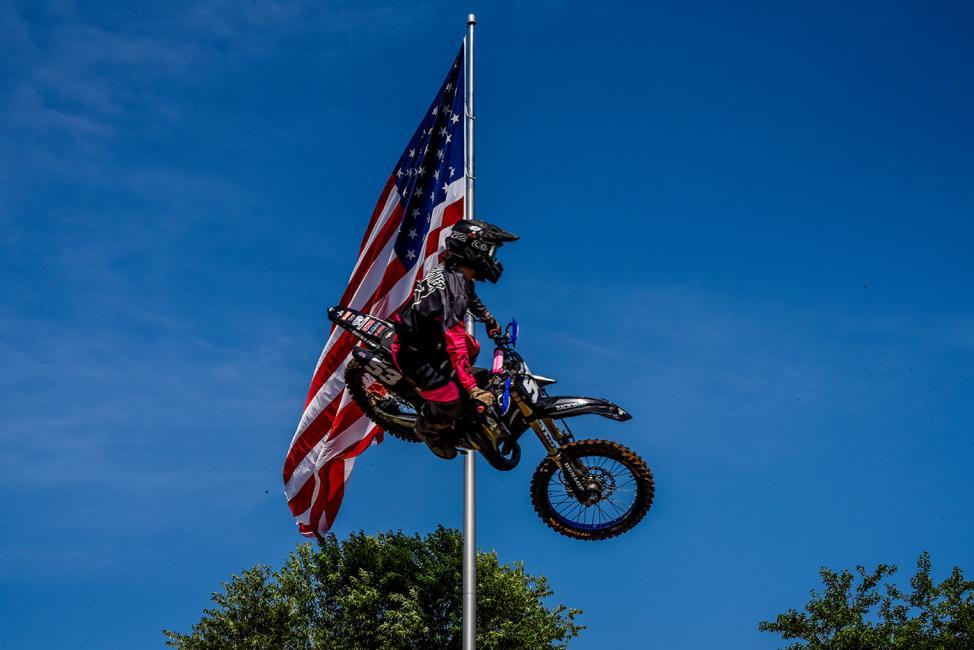 In the 250 B class, Blackmer realized a childhood dream when he cleared LaRocco's Leap for the first time en route to a perfect 1-1 performance and the overall win.
"It was pretty crazy," said Blackmer. "The thing shot me pretty high in the air. That was my dream to hit that jump because I've been coming to RedBud for a long time. It was in practice and I did one lap and I came around and I just kind of squared it up the next lap and ended up going off the track and coming back to it. Ended up jumping it. After that, I was jumping it every single lap in the 250 B moto."
Kawasaki-mounted Braden Gray (Kaw) went 3-3 for second overall, with Bodie Diehl (KTM) taking third overall with 5-2 moto finishes.
Caden Switzer was particularly fast through the RedBud Rollers and used that speed to win the Schoolboy 2 division with a perfect 1-1 score.
"I have trails in my backyard and it's all rollers, so I just felt I had a little advantage in that spot," said Switzer.
Cameron Skaalerrud (Kaw) posted a pair of runner-up moto finishes for second overall, while Kyle Petrie's (Kaw) 3-3 was good enough for third overall.
Brandon Nelson (KTM) took advantage of a second-moto tip-over by Krystian Janik to win the highly competitive Supermini division. Janik took an impressive win in the first moto on his Team Green Kawasaki, while Nelson finished a solid second. In moto two, Janik once again took the lead, however, a crash later in the race dropped him outside of the top-10 and handed Nelson the lead. In the end, Nelson took the overall victory with a 2-1 moto score, while Ryder Beth (KTM) parlayed a 3-2 performance into second overall. Dominic Felty (KTM) finished with a fourth and a third for third overall. Meanwhile, Janik went 1-12 for sixth.
Nelson was particularly fast through the sand rollers.
"It feels really good to win, especially against some really fast competition," said Nelson. "It was also cool getting to ride the same track the pros raced on Saturday."
Wade Brommel (Kaw) overcame a bad start to win the first moto in the 250 A division ahead of Suzuki riders Vincent Luhovey and Blake Taylor. Brommel made up a lot of ground with a smooth line he found down the long straight after the finish.
"I was buried off the start in that first moto and I just kept pushing ahead and passing riders as fast as I could," said Brommel. "I didn't even know I was in the lead when I got the checkered flag because of all the lapped riders."
Brommel was second out of the first turn in moto two and made a pass Shane Sewel (Kaw) and into the lead by the second lap.
"The track was perfect," added Brommel. "They worked it between motos, which I wasn't really used to."
Luhovey (3-2) ended up second overall with a 2-3 moto tally, while Sewel finished in third overall with a 5-2 finish.
The 125cc All Star Series is another new component to the Pro Motocross weekend, and 17-year-old Justin Cokinos (KTM) of Massachusetts took the win, beating out veteran Nick Wey (Hsq) and Luke VonLinger (Hsq), as over 40 riders banged handlebars over the top spot on the podium.
The 125 All Stars Series race has become one of the highlights of the pro weekend and every Pro Motocross event in 2019 will feature the special class, which was created to provide an opportunity for the manufacturers that still make 125cc 2-strokes to showcase these bikes. The 125cc class fills a huge gap between 85's and 250's, so MX Sports is helping to fill the void by making 125cc 2-strokes as part of the pro afternoons.
Counting the 125 All Stars race, over 550 riders competed in amateur competition at this year's RedBud MX.