WPS/FLY Racing Thunder Valley National Results
Sunday, October 4, 2020 | 12:00 AM
Tomac Captures Second Lucas Oil Pro Motocross Championship Win of the Season at
Home National in Colorado
Cooper Prevails with Second Career Victory in the 250 Class
The Lucas Oil Pro Motocross Championship, sanctioned by AMA Pro Racing, made its annual journey to the highest elevation of any professional motocross track in the world at Thunder Valley Motocross Park for the penultimate round of the 2020 season. Perfect fall temperatures made for ideal conditions at the WPS/FLY Racing Thunder Valley National, where the hometown favorite, Monster Energy Kawasaki's Eli Tomac, prevailed for the second time in three years at his home National. In the 250 Class, Monster Energy/Star/Yamaha Racing's Justin Cooper charged to his first win of the season.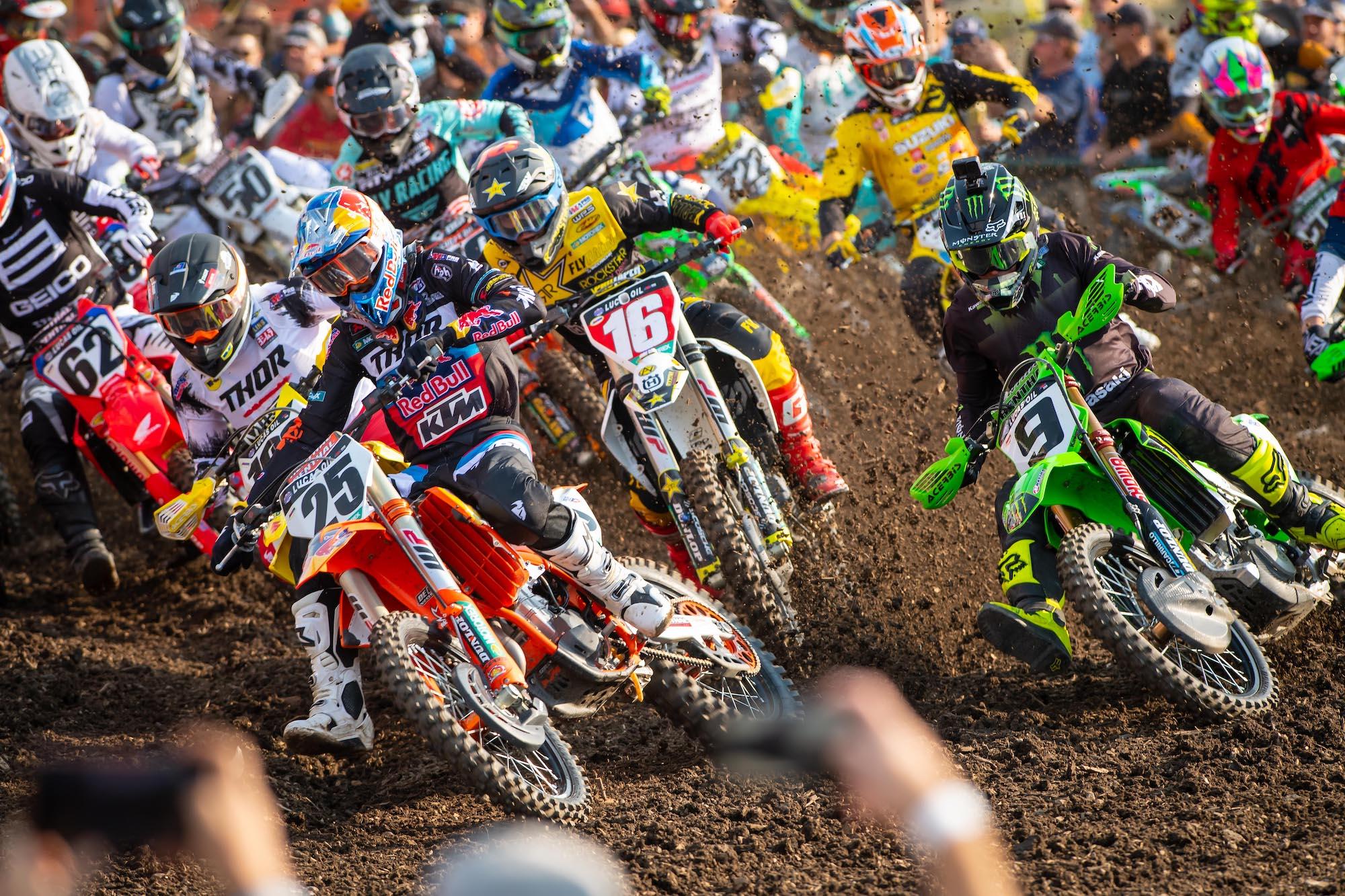 As the gate dropped on the first 450 Class moto of the afternoon it was Monster Energy Kawasaki's Adam Cianciarulo who emerged with his fifth MotoSport.com Holeshot with Team Honda HRC's Chase Sexton right behind him as Rockstar Energy Husqvarna Factory Racing's Zach Osborne slotted into third. With a clear track Cianciarulo was able to quickly build a multi-second advantage that he then managed through the middle portion of the moto. Meanwhile, Sexton shed himself of Osborne to assert his hold of second.
As the second half of the moto wore on, Sexton was able to gain some ground on Cianciarulo and got to within less than two seconds of the lead. However, Cianciarulo responded and was able to restabilize the lead. With less than five minutes remaining Cianciarulo narrowly avoided a crash when he briefly lost control of his Kawasaki, which allowed Sexton to close within just a second-and-a-half. Once again Cianciarulo dug deep in response and was able to rebuild his lead to its largest margin. Behind the see-saw battle up front Tomac, who started sixth, was able to track down Osborne and make the pass for third.
Cianciarulo went wire-to-wire for his fourth moto win of the season, crossing the finish line 2.6 seconds ahead of Sexton with a hard-charging Tomac in third. Osborne followed in fourth, with Monster Energy Yamaha Factory Racing's Justin Barcia completing the top five.
The 450 Class field made uphill charge once more to begin the final moto of the day and as the riders exited the first turn it was Red Bull KTM Factory Racing's Marvin Musquin who secured the MotoSport.com Holeshot over Cianciarulo, who quickly applied pressure and jumped into the lead, followed by Osborne into second. Musquin continued to lose ground as Twisted Tea/H.E.P. Suzuki's Max Anstie took over third and left Musquin to deal with Tomac in a battle for fourth. Tomac pounced and stormed past both Musquin and Anstie to go from fifth to third.
After a busy opening lap Cianciarulo was able to sprint away to a second-and-a-half advantage over Osborne, while Tomac gave chase from third. The top three ran within a couple seconds of one another and after several laps of trading momentum Tomac began to apply pressure on Osborne, successfully taking control of second a little more than 10 minutes into the moto. From there Tomac kept looking ahead and started to make the move on his teammate for the lead. With the home crowd cheering him on, Tomac made the pass happen and took control of the moto.
Once out front Tomac dropped the hammer and quickly gapped the rest of the field. Together, the Kawasaki tandem then pulled away from Osborne. The pace of the top three was so impressive that the leaders enjoyed more than a 10-second advantage over fourth halfway through the moto. With a handful of time left on the clock it appeared as though Tomac had the win in hand, but his place slowed as he appeared to deal with something on his motorcycle, which allowed Cianciarulo to close back in. Tomac's slowing was brief and he regrouped to rebuild his advantage.
With Tomac back up to speed, managing a lead of about five seconds, Cianciarulo was forced to deal with some pressure from a late charge by Osborne from third. The championship rivals were within a few bike lengths of one another when Cianciarulo nearly crashed after his bike took off awkwardly on a jump. He kept his Kawasaki on two wheels, but it allowed Osborne to assume second. Just a few laps later Cianciarulo put in one final charge to catch and pass Osborne. Cianciarulo came to the inside on one of the track's downhill sections but couldn't get the bike slowed enough, causing slight contact between the two that sent Cianciarulo off the track momentarily. Out front Tomac finished strong to take his second moto win of the season by 8.9 seconds over Osborne, with Cianciarulo in third.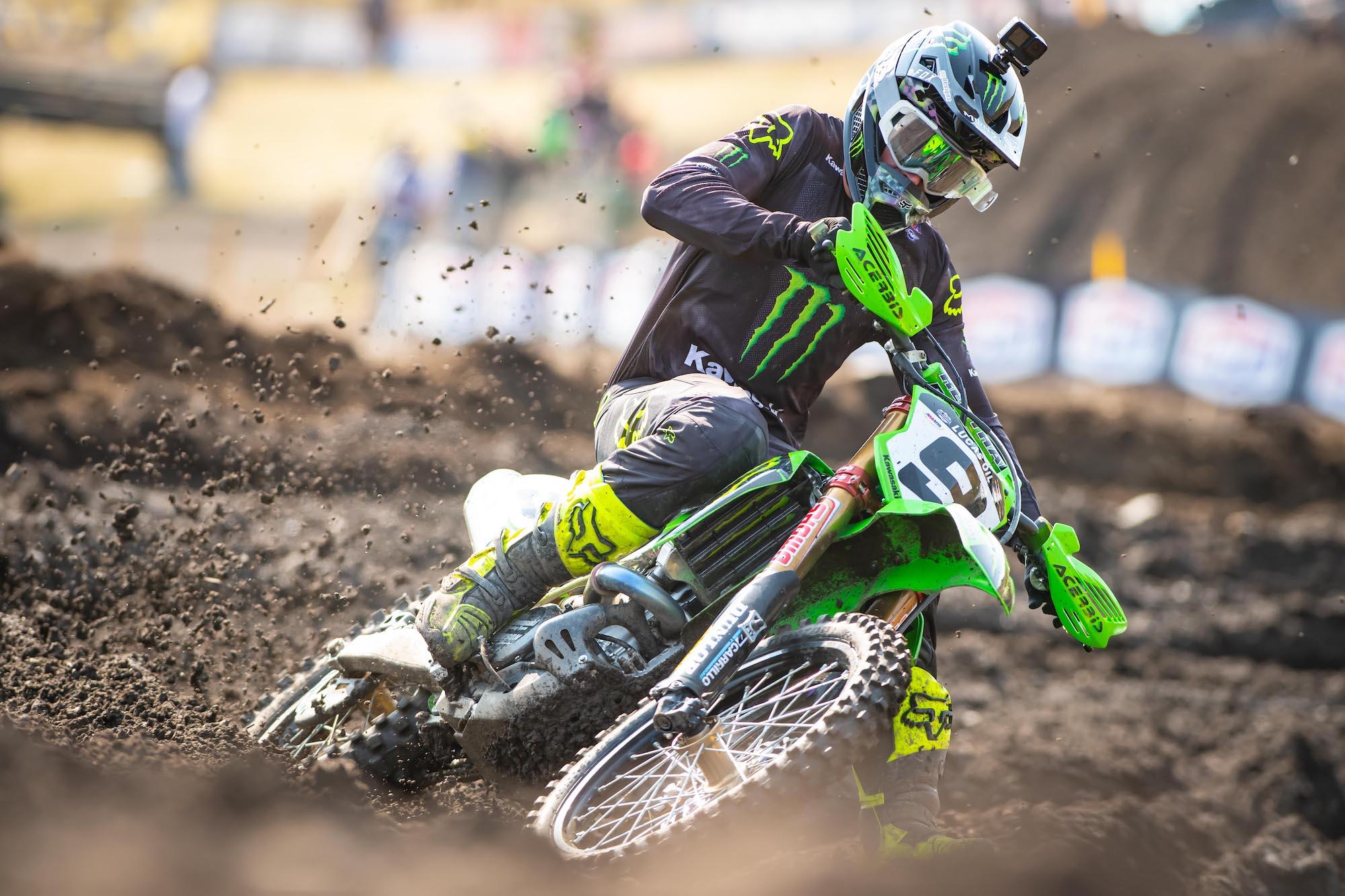 Tomac (3-1) and Cianciarulo (1-3) finished with identical moto scores, leaving them tied atop the overall classification. However, by virtue of his win in the final moto Tomac earned the tiebreaker to give him his second victory of the season and the 25th win of his career. It also signified the first 1-2 sweep for the Monster Energy Kawasaki duo. Osborne rounded out the overall podium in third (4-2).
"Such a cool day here in Colorado. So glad we were able to get back here this season," expressed Tomac. "I finally had a race where I felt like myself. In the first moto I was out of touch (from the leaders) early on, but in the second moto I was much closer to the front. I had a bit of a clutch hang up, but it fixed itself. We really needed this. I've kind of been searching lately, so it feels good to have a day like this and get back on top."
Osborne lost five points to Cianciarulo in the championship and will now enter the final round with a 24-point lead in the standings, looking to secure his first premier class title.
"In the first moto I got slammed by another rider in the second turn and my foot got jammed really bad. The more I went the more I could feel it," explained Osborne. "I got it massaged before the second moto and then adrenaline carried me from there. I had a mid-race lull there in the second moto, but was able to finish strong and get a good result. I wasn't in my comfort zone today so I did a little bit of point racing. We'll look forward to next week."
The opening moto of the 250 Class began with Monster Energy/Pro Circuit/Kawasaki's Mitchell Harrison prevailing with the MotoSport.com Holeshot, but he quickly gave way to the Monster Energy/Star/Yamaha Racing teammates of Shane McElrath and Dylan Ferrandis. As the lead duo quickly built a gap over the field, the race soon turned into a breakaway for the Star Yamaha squad as Cooper moved into third. With Cooper closing in, Ferrandis picked up the pace and put the pressure on McElrath for the lead, successfully making the pass about 10 minutes into the moto. Once out front the Frenchman was able to sprint away to a multi-second advantage. As Ferrandis continued to build on his lead the battle for second intensified between McElrath and Cooper just past the halfway point of the moto. Cooper soon made his way around his teammate and looked to chip away at the deficit to Ferrandis.
Out front Ferrandis was able to maintain a comfortable margin over Cooper the rest of the way to secure his eighth moto win of the season and his fifth consecutive checkered flag by 5.3 seconds over Cooper, with McElrath securing a 1-2-3 sweep for Monster Energy/Star/Yamaha Racing. GEICO Honda's Jeremy Martin followed in fourth, while his teammate Hunter Lawrence rounded out the top five.
As the field roared out the gate to start Moto 2 it was Cooper who came away with the MotoSport.com Holeshot, followed by his teammates Jarrett Frye and McElrath, with McElrath getting by Frye for second. Ferrandis started outside the top 10 while his primary championship rival, Martin, got by Frye for third. Martin didn't stop there. He kept his push to the front going and made the pass on McElrath for second before attacking Cooper for the lead. As the battle for first took shape Ferrandis had worked his way to just outside the top five.
Cooper responded to the pressure and maintained his hold of the lead. Behind them Ferrandis encountered some misfortune when two riders ahead of him came together and forced the Yamaha off track and onto the ground. The point leader got back on his bike and reentered quickly, but had to make up a few lost positions from 10th place. Back up front, Martin closed back in on Cooper just past the halfway point of the moto. The lead duo again engaged in a spirited fight, where Cooper fended off virtually every one of Martin's moves and successfully rebuilt his advantage after several laps of tight racing.
As time ran out on the moto the focus shifted to the battle for third, which turned into a three-rider fight between McElrath, Lawrence and Ferrandis, who successfully battled back from his early incident. Lawrence was aggressive in trying to keep Ferrandis at bay and it carried him by McElrath for third. Ferrandis followed through into fourth and then made an impressive pass on Lawrence to take control of third. Out front Cooper pulled out to a margin of more than five seconds and carried on to his first moto win of the season, followed by Martin in second and Ferrandis in third after a resilient ride.
The second moto win was enough to put Cooper atop the overall classification (2-1) for his second career victory, where he became the fourth different 250 Class winner this season. Ferrandis' spirited effort in Moto 2 allowed him to secure the runner-up spot (1-3), while Martin ended up third (4-2).
"A lot of pressure was on my shoulders, but I'm glad it's off," exclaimed Cooper. "There were only two rounds left (entering today) so it's a good time to do it. Now I can go into next weekend feeling a lot more confident and look to finish out the season strong. I really enjoy this place. I get good vibes here. It just feels good to pull off a win."
The come-from-behind effort by Ferrandis paid dividends in the 250 Class standings where he gained five points on Martin to carry a 18-point lead into the final round.
"I was in a bad position (in the second moto). I wanted to get as many points as possible, so I rode as hard as I could," said Ferrandis. "I got a bad start and then I got caught up in an incident. There was nothing I could do. I just put my head down and gave it my all. We still were able to get on the podium so that's good for the championship."
Thunder Valley - 450 Class
| | Rider | Hometown | Motos | |
| --- | --- | --- | --- | --- |
| 1 | Eli Tomac | Cortez, CO | 3 - 1 | |
| 2 | Adam Cianciarulo | Port Orange, FL | 1 - 3 | |
| 3 | Zach Osborne | Abingdon, VA | 4 - 2 | |
| 4 | Chase Sexton | La Moille, IL | 2 - 5 | |
| 5 | Christian Craig | El Cajon, CA | 7 - 4 | |
| 6 | Marvin Musquin | La Reole, France | 6 - 8 | |
| 7 | Max Anstie | Newbury, England, United Kingdom | 9 - 6 | |
| 8 | Benny Bloss | Oak Grove, MO | 14 - 7 | |
| 9 | Justin Bogle | Cushing, OK | 12 - 9 | |
| 10 | Jake Masterpool | Paradise, TX | 13 - 10 | |
Full Results
450 Class Standings - 2020
| | Rider | Hometown | Points |
| --- | --- | --- | --- |
| 1 | Zach Osborne | Abingdon, VA | 355 |
| 2 | Adam Cianciarulo | Port Orange, FL | 343 |
| 3 | Eli Tomac | Cortez, CO | 321 |
| 4 | Marvin Musquin | La Reole, France | 314 |
| 5 | Chase Sexton | La Moille, IL | 290 |
| 6 | Christian Craig | El Cajon, CA | 235 |
| 7 | Justin Barcia | Monroe, NY | 234 |
| 8 | Blake Baggett | Grand Terrace, CA | 232 |
| 9 | Max Anstie | Newbury, England, United Kingdom | 193 |
| 10 | Broc Tickle | Holly, MI | 170 |
Full Standings
Thunder Valley - 250 Class
| | Rider | Hometown | Motos | |
| --- | --- | --- | --- | --- |
| 1 | Justin Cooper | Cold Spring Harbor, NY | 2 - 1 | |
| 2 | Dylan Ferrandis | Avignon, France | 1 - 3 | |
| 3 | Jeremy Martin | Millville, MN | 4 - 2 | |
| 4 | Shane McElrath | Canton, NC | 3 - 5 | |
| 5 | Hunter Lawrence | Landsborough, Australia | 5 - 4 | |
| 6 | Jett Lawrence | Landsborough, Australia | 6 - 6 | |
| 7 | Jo Shimoda | Suzuka City, Mie Prefecture, Japan | 7 - 8 | |
| 8 | Mitchell Harrison | Lansing, MI | 8 - 9 | |
| 9 | Jarrett Frye | Mechanicsville, MD | 9 - 10 | |
| 10 | Carson Mumford | Simi Valley, CA | 13 - 11 | |
Full Results
250 Class Standings - 2020
| | Rider | Hometown | Points |
| --- | --- | --- | --- |
| 1 | Dylan Ferrandis | Avignon, France | 390 |
| 2 | Jeremy Martin | Millville, MN | 377 |
| 3 | Shane McElrath | Canton, NC | 288 |
| 4 | Jett Lawrence | Landsborough, Australia | 277 |
| 5 | Justin Cooper | Cold Spring Harbor, NY | 271 |
| 6 | Alex Martin | Millville, MN | 242 |
| 7 | R.J. Hampshire | Hudson, FL | 217 |
| 8 | Mitchell Harrison | Lansing, MI | 190 |
| 9 | Cameron McAdoo | Sioux City, IA | 186 |
| 10 | Brandon Hartranft | Brick, NJ | 176 |
Full Standings
Buy Your Tickets Today