Rotation of American Motocross All-Stars to Join 2022 Broadcasts
Thursday, May 19, 2022 | 4:25 PM
Rotation of American Motocross All-Stars to Fulfill Analyst Role on 50th Anniversary Lucas Oil Pro Motocross Championship Broadcasts
Collection of the Series' Most Successful and Influential Figures
to Lend Their Expertise in Announcers Booth Alongside Jason Weigandt
With the landmark 50th anniversary rapidly approaching, MX Sports Pro Racing has announced a unique and exciting addition to its historic broadcast package for the 2022 Lucas Oil Pro Motocross Championship, sanctioned by AMA Pro Racing. A collection of American motocross all-stars will join host and lead commentator Jason Weigandt in the announcers booth during the live broadcasts of all 48 motos this summer on MAVTV Motorsports Network and NBC TV Network, with live streaming on MAVTV Plus.
"With such an milestone season upon us, not to mention an exciting new partnership with MAVTV Motorsports Network, NBC, and MAVTV Plus that will bring live coverage of every moto for the first time, we wanted to introduce an innovative approach to our broadcast team that aligned with the celebration of the 50th anniversary," said Davey Coombs, President, MX Sports Pro Racing. "As a result, we've amassed a collection of some of the most admired and accomplished former racers, many of whom were AMA Pro Motocross Champions, to serve as analysts alongside Weege over the course of the season. This who's who of American motocross all-stars will provide truly unique insight into the action on the track from one National to the next, allowing our viewers to not only get to know these former athletes a little better, but also gain different perspectives in the pursuit of victory."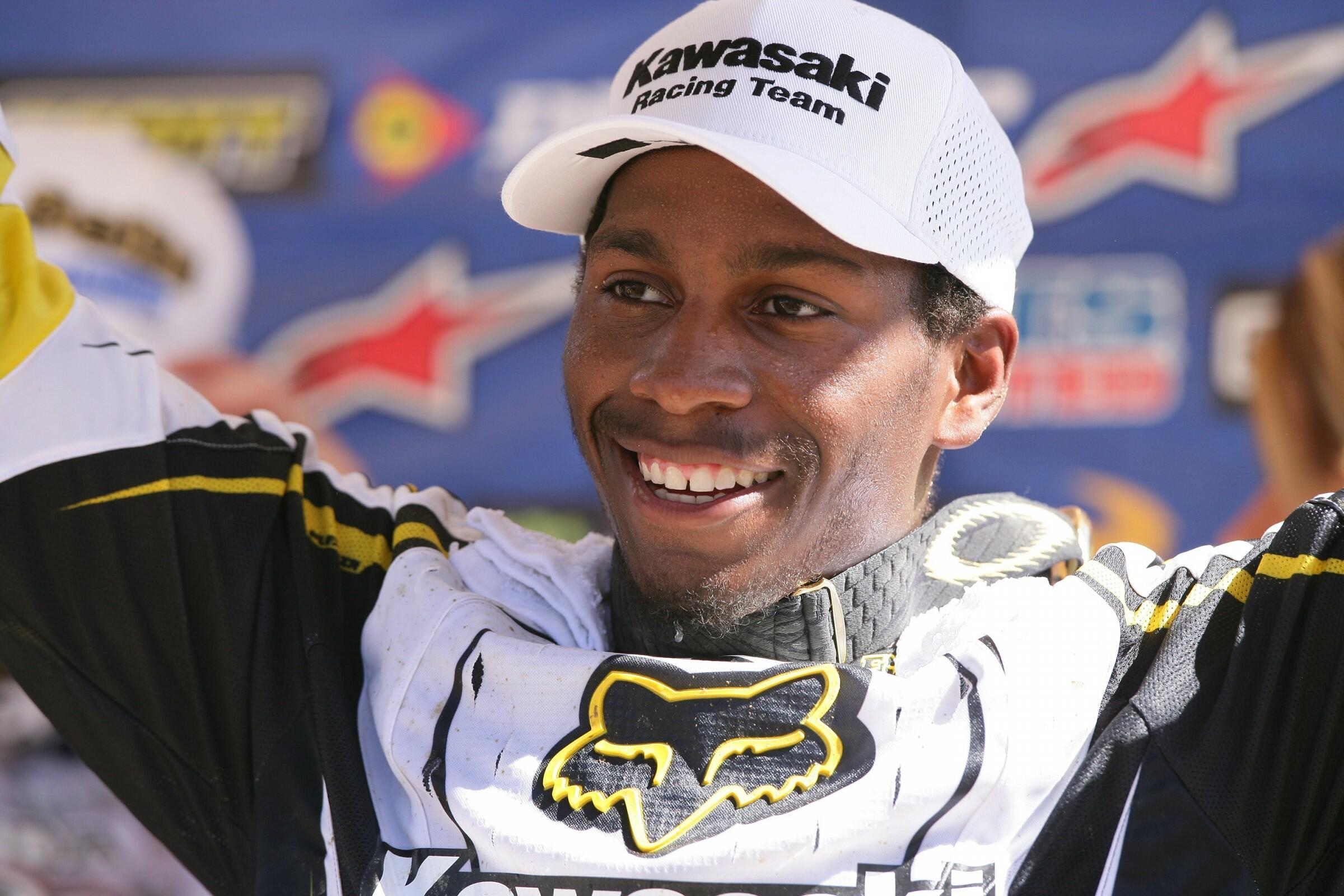 All told, this elite group of former pros combined to capture 37 AMA Pro Motocross Championships and amassed an incredible 332 victories. They're collective success speaks for itself, but perhaps even more importantly is the lasting impact each individual had on the sport, whether it was progression in riding or serving as an inspiration for future generations:
Ricky Carmichael: 10-time Pro Motocross Champion with 102 career wins
Broc Glover: 6-time Pro Motocross Champion with 35 career wins
Rick Johnson: 5-time Pro Motocross Champion with 33 career wins
Ryan Villopoto: 5-time Pro Motocross Champion with 31 career wins
James Stewart: 3-time Pro Motocross Champion with 48 career wins
Jeff Emig: 3-time Pro Motocross Champion with 29 career wins
David Bailey: 3-time Pro Motocross Champion with 18 career wins
Jeremy McGrath: 450cc/250cc Pro Motocross Champion with 17 career wins
Adam Cianciarulo: 250 Class Pro Motocross Champion with 9 career wins
Damon Bradshaw: 10 career Pro Motocross wins
Details surrounding which all-star will serve the analyst role at each respective event of the 12-round championship will be announced as a breaking news item in the days leading up to every National.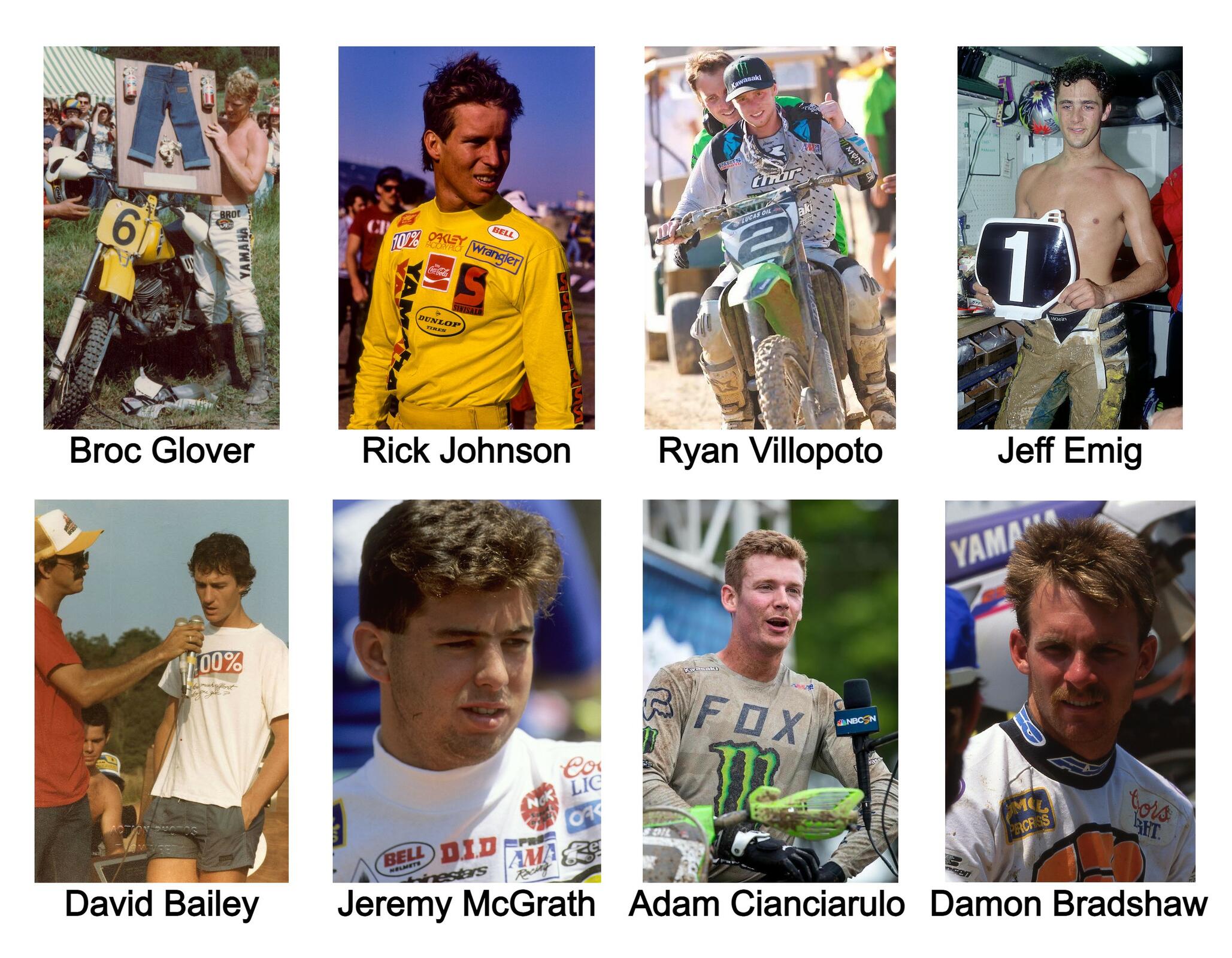 In addition to the in-booth talent for the 50th Anniversary of the Lucas Oil Pro Motocross Championship, trackside and pit reporting duties will be shared between Will Christien, a familiar face to viewers of both Monster Energy Supercross and Pro Motocross in recent years, and the newest addition to American motocross broadcasts, former racer and current media personality Jason Thomas.
"Breaking away from tradition is one of the cornerstones that made the Lucas Oil Pro Motocross Championship the preeminent series that it is today, and given the significance of this upcoming season we're incredibly eager to welcome many of the sport's most prolific figures to the broadcast team," said Bob Dillner, Sr. Director of Programming for MAVTV. "As fans of the sport ourselves, we share in the excitement these former racers will bring to our passionate and knowledgeable audience. It should be a special season befitting the 50th anniversary celebration."
MAVTV Motorsports Network is available from most cable and satellite television providers, including DIRECTV, Fios by Verizon, Optimum, and Spectrum, and is also available from streaming services like Fubo TV, Hulu + Live TV, and YouTube TV. Viewers looking to add MAVTV Motorsports Network to their channel lineup can use the GET MAVTV tool and simply input their zip code to see where the channel is available locally.
For streaming and mobile viewers, subscribers to MAVTV Plus will receive live coverage of the motos that air on MAVTV in addition to tape-delayed coverage of the motos scheduled to air on NBC. MAVTV Plus will also feature exclusive content for subscribers, including qualifying shows every race day to see which rider will emerge with pole position and first gate pick. On-demand access to coverage from the entire 2022 season will also be available for fans who want to rewatch the action or wait to watch the drama unfold for the first time at their convenience.
New subscribers to MAVTV Plus have the choice of two plans for the most dynamic live and on-demand motorsports streaming service available - yearly ($99) or monthly ($6.99). For a limited time, Pro Motocross fans can take advantage of a $10 discount on a yearly subscription, using the code PROMX10, or receive 50% off the first month of a monthly subscription, using code PROMX50. MAVTV Plus subscribers have the power to watch the 2022 season at their convenience, whether through live streaming coverage or replays via on-demand access, while also being treated to extended coverage of the Pro Motocross Championship.
Signing up for MAVTV Plus is simple. Users simply log onto MAVTVPlus.com and select "Sign Up Now" to register for an account. Pick and subscription plan, enter the proper billing information, and access to the 2022 Lucas Oil Pro Motocross Championship along with a comprehensive library of live and on-demand programming is at your fingertips.
The 50th Anniversary of the Lucas Oil Pro Motocross Championship will kick off over Memorial Day weekend on Saturday, May 28, in Southern California with the Honda Fox Raceway I National. Full live coverage of the motos on MAVTV and MAVTV Plus will begin at 1 p.m. PT / 4 p.m. ET.
Live & On-Demand

2022 TV Schedule
* all times
May 28 - 4:00pm

Live

250 Moto 1

May 28 - 4:00pm

Live

250 Moto 1

May 28 - 5:00pm

Live

450 Moto 1

May 28 - 5:00pm

Live

450 Moto 1

May 28 - 6:00pm

Live

250 Moto 2

May 28 - 6:00pm

Live

250 Moto 2

May 28 - 7:00pm

Live

450 Moto 2

May 28 - 7:00pm

Live

450 Moto 2

Jun 4 - 1:00pm

Live

Practice/Qualifying

Jun 4 - 4:00pm

Live

250 Moto 1

Jun 4 - 4:00pm

Live

250 Moto 1

Jun 4 - 5:00pm

Live

450 Moto 1

Jun 4 - 5:00pm

Live

450 Moto 1

Jun 4 - 6:00pm

Live

250 Moto 2

Jun 4 - 6:00pm

Live

250 Moto 2

Jun 4 - 7:00pm

Live

450 Moto 2

Jun 4 - 7:00pm

Live

450 Moto 2

Jun 11 - 12:00pm

Live

Practice/Qualifying

Jun 11 - 4:00pm

Live

450 Moto 1

Jun 11 - 5:00pm

Live

250 Moto 1

Jun 11 - 5:00pm

Live

250 Moto 1

Jun 11 - 6:00pm

Live

450 Moto 2

Jun 11 - 6:00pm

Live

450 Moto 2

Jun 11 - 7:00pm

Live

250 Moto 2

Jun 11 - 7:00pm

Live

250 Moto 2

450 Moto 1

Jun 18 - 10:00am

Live

Practice/Qualifying

Jun 18 - 1:00pm

Live

250 Moto 1

Jun 18 - 1:00pm

Live

250 Moto 1

Jun 18 - 2:00pm

Live

450 Moto 1

Jun 18 - 2:00pm

Live

450 Moto 1

Jun 18 - 3:00pm

Live

250 Moto 2

Jun 18 - 3:00pm

Live

250 Moto 2

Jun 18 - 4:00pm

Live

450 Moto 2

Jun 18 - 4:00pm

Live

450 Moto 2

Jul 2 - 10:00am

Live

Practice/Qualifying

Jul 2 - 1:00pm

Live

450 Moto 1

Jul 2 - 1:00pm

Live

450 Moto 1

Jul 2 - 2:00pm

Live

250 Moto 1

Jul 2 - 2:00pm

Live

250 Moto 1

Jul 2 - 3:00pm

Live

450 Moto 2

Jul 2 - 4:00pm

Live

250 Moto 2

Jul 2 - 4:00pm

Live

250 Moto 2

450 Moto 2

Jul 9 - 1:30pm

Live

450 Moto 1

Jul 9 - 2:30pm

Live

250 Moto 1

Jul 9 - 3:30pm

Live

450 Moto 2

Jul 9 - 4:30pm

Live

250 Moto 2

Jul 16 - 2:00pm

Live

250 Moto 1

Jul 16 - 3:00pm

Live

450 Moto 1

Jul 16 - 4:00pm

Live

250 Moto 2

Jul 16 - 5:00pm

Live

450 Moto 2

Jul 23 - 1:00pm

Live

Practice/Qualifying

Jul 23 - 4:00pm

Live

250 Moto 1

Jul 23 - 5:00pm

Live

450 Moto 1

Jul 23 - 6:00pm

Live

250 Moto 2

Jul 23 - 7:00pm

Live

450 Moto 2

Aug 13 - 10:00am

Live

Practice/Qualifying

Aug 13 - 1:00pm

Live

250 Moto 1

Aug 13 - 2:00pm

Live

450 Moto 1

Aug 13 - 3:00pm

Live

250 Moto 2

Aug 13 - 4:00pm

Live

450 Moto 2

Aug 20 - 10:00am

Live

Practice/Qualifying

Aug 20 - 1:00pm

Live

250 Moto 1

Aug 20 - 2:00pm

Live

450 Moto 1

Aug 20 - 3:00pm

Live

250 Moto 2

Aug 20 - 4:00pm

Live

450 Moto 2

Aug 27 - 10:00am

Live

Practice/Qualifying

Aug 27 - 1:00pm

Live

250 Moto 1

Aug 27 - 2:00pm

Live

450 Moto 1

Aug 27 - 3:00pm

Live

250 Moto 2

Aug 27 - 4:00pm

Live

450 Moto 2

Sep 3 - 1:00pm

Live

Practice/Qualifying

Sep 3 - 4:00pm

Live

250 Moto 1

Sep 3 - 5:00pm

Live

450 Moto 1

Sep 3 - 6:00pm

Live

250 Moto 2

Sep 3 - 7:00pm

Live

450 Moto 2