Daxton Bennick Wins First SX Futures of 2023 in Anaheim
Sunday, January 29, 2023 | 12:00 PM
Monster Energy Yamaha Star Racing's Daxton Bennick showed the form and composure of a seasoned Supercross pro on his way to a strong victory in the first round of the 250SX Futures Class of Monster Energy AMA Supercross. Angel Stadium of Anaheim was packed and loud for Round 4 of the pro season and the Supercross Futures race that took place midway through the night's racing program. Rockstar Energy Husqvarna's Casey Cochran, who was competing in the B Group, earned second overall while teammate Talon Hawkins grabbed the holeshot and had an eventful race to garner the final podium position.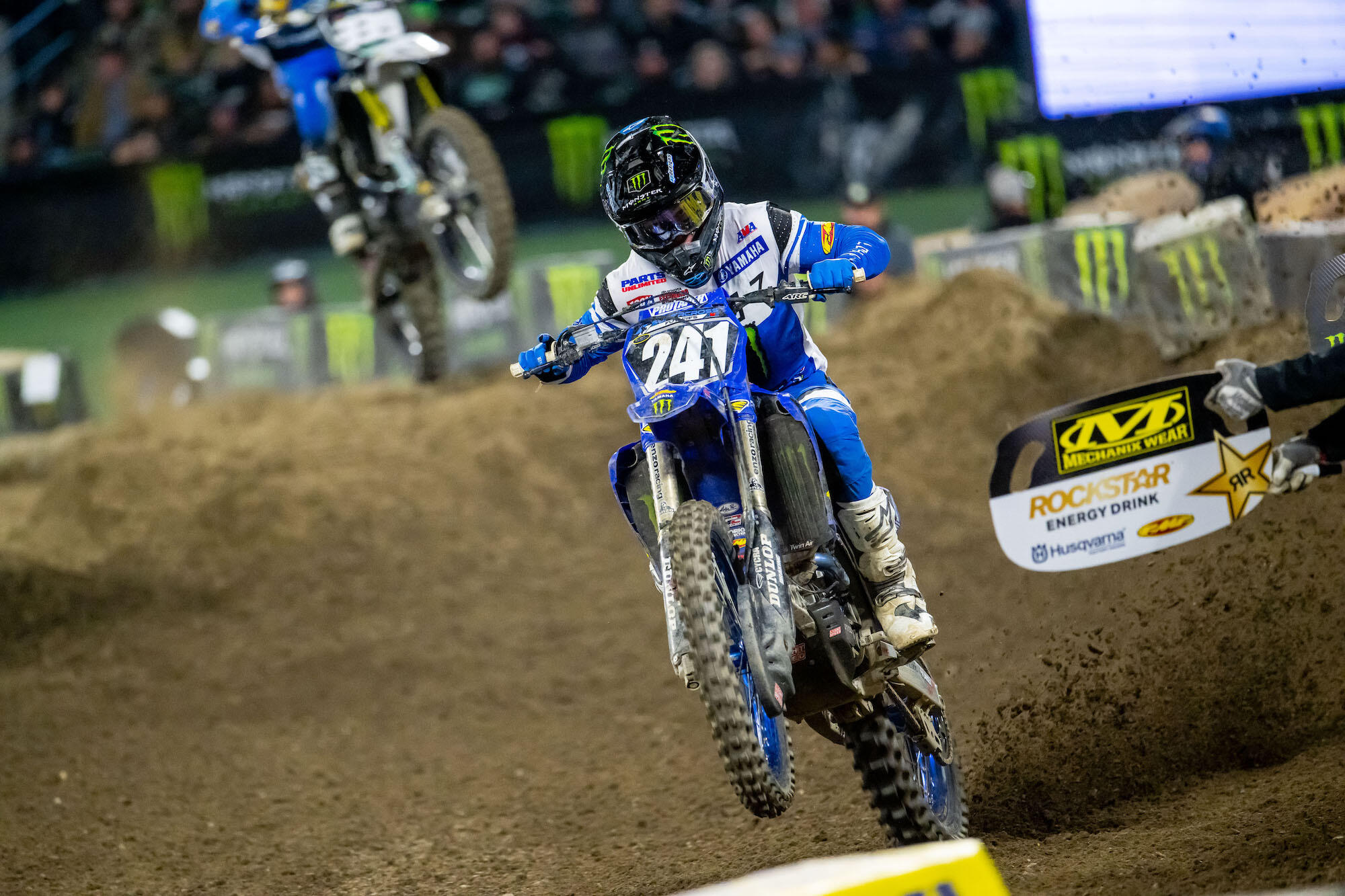 The Supercross Futures program was conceived to provide a stadium Supercross experience and path to the pros for the next generation of racers. Four rounds are held throughout the Monster Energy AMA Supercross season with the top five finishers qualifying for an AMA Amateur National Championship held in Salt Lake City, Utah during the final event of the full 17-round pro season.
When the gate dropped Talon Hawkins nabbed the holeshot in front of 17 other racers. He mis-timed the first rhythm section and Casey Cochran took over the lead spot with Hawkins and Altherm JCR Yamaha's Cole Davies right behind. Davies' wild ride through the whoops on the opening lap allowed Daxton Bennick and EBR Racing Yamaha's Julien Beaumer to get around Davies. Beaumer landed hard on a following jump and his handlebar rotated in the clamps; he was forced to slow his pace.
Cochran led the field of young racers until, similar to Davies' opening lap troubles, Cochran had a bobble in the whoops that allowed Hawkins to re-take the lead in the next rhythm lane. With 3:38 remaining on the race clock of the six-minute plus one lap race, Bennick made an inside move under Cochran to take second while just behind them Monster Energy Yamaha Star Racing's Haiden Deegan crashed trying to re-take fifth position from KTM USA's Preston Boespflug. The mistake sent Deegan, a race-win favorite, back to ninth.
Bennick steadily reeled in Hawkins and with just over a minute left on the race clock, Bennick used a fast run through the whoops to get cleanly into the lead. On the final lap Hawkins ran into trouble, allowing Cochran to grab the runner up spot as Hawkins recovered to finish in third place.
The 250SX Futures Class races again in Arlington, Texas on February 25th, which will also be the second of three Triple Crown-format events for the professional racers. All Monster Energy AMA Supercross events are streamed live on Peacock with select events also broadcast on NBC, USA Network, and CNBC. For the full schedule, results, video highlights, and ticket sales to any of the remaining Monster Energy AMA Supercross events, please visit SupercrossLIVE.com.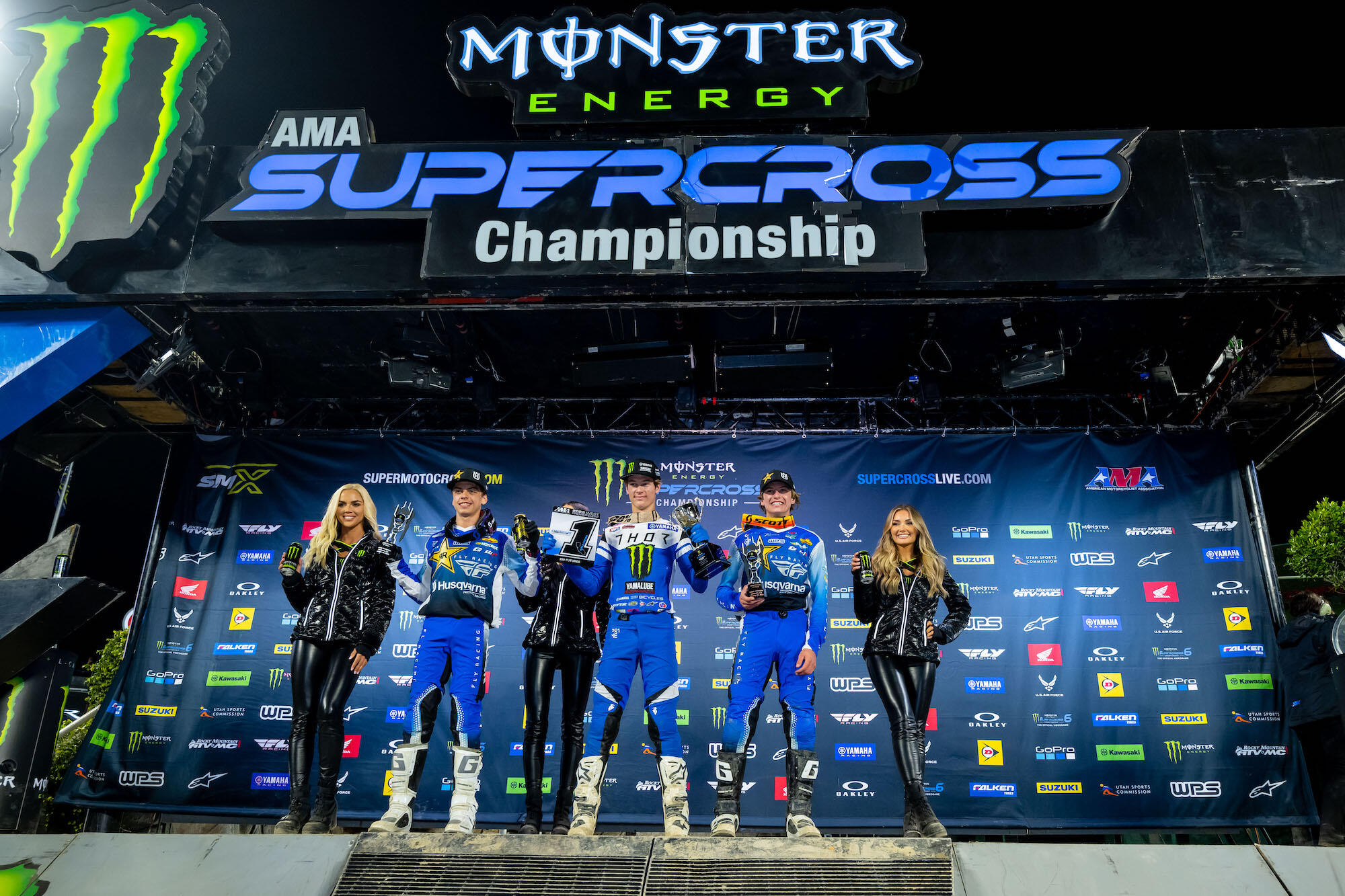 SX Futures Class Results
1. Daxton Bennick, Morganton, N.C., Yamaha
2. Casey Cochran, Clermont, Fla., Husqvarna
3. Talon Hawkins, Temecula, Calif., Husqvarna
4. Cole Davies, Waitoki, NZ, Yamaha
5. Haiden Deegan, Tallahassee, Fla., Yamaha
6. Preston Boespflug, Winchester, Calif., KTM
7. Gage Linville, Park Lake, Ga., Honda
8. Slade Varola, Simi Valley, Calif., Kawasaki
9. Braden Spangle, Mead, Wash., Yamaha
10. Dylan Cunha, Modesto, Calif., Yamaha