Troy Lee Designs/GASGAS Factory Racing Introduce 2024 Lineup
Saturday, October 28, 2023 | 3:00 PM
GASGAS celebrates the inking of a renewed deal with our valued partner, Troy Lee Designs, ahead of the 2024 SuperMotocross World Championship (SMX) season.
GASGAS announces renewed partnership with Troy Lee Designs for three years
Factory team debuts 2024 SMX lineup with Barcia, Brown and DiFrancesco
When it comes to being the life of the party, no one does it better than the Troy Lee Designs/Red Bull/GASGAS Factory Racing team! Coming in hot for 2024 with a rad lineup of 450 and 250 riders, this year's squad is fully locked in with Max Lee as Team Manager for the second year. Adding style and flare to the team's aesthetics, we're proud to continue our successful relationship with Troy Lee Designs (TLD) for another three years. As a longtime partner of the KTM Group and our motorsports efforts, TLD was a founding force of GASGAS Factory Racing's entry into U.S. SX/MX racing and we couldn't be more proud of where the team is after three seasons together.
Owner Troy Lee Designs/Red Bull/GASGAS Factory Racing, Troy Lee:
"I feel super privileged to continue our partnership with GASGAS for our race team. GASGAS is becoming more technical and advanced than ever before, not only on the motorcycle front but with bicycles too, which has been an amazing opportunity for me to collaborate on both. I am proud to team up with Stefan Pierer and the entire KTM Group for its factory efforts. I'm stoked to go racing with the coolest team on the coolest bikes. Let's go 2024!"
Team Manager Troy Lee Designs/Red Bull/GASGAS Factory Racing, Max Lee:
"I am very excited for the 2024 race season. We have a new 250 rider who joined the group and we are already in full swing training for A1. It's been a blast getting to work with these guys and I'd like to thank everyone from GASGAS and Troy Lee Designs for the support and plan to have an outstanding next year with this team. We have a lot of positives to take away from the '23 season and we plan to keep building this off-season and be fighting for race wins come January!"
In the premier class, Justin Barcia is back in action for '24 aboard the MC 450F Factory Edition. Barcia claimed six podium finishes in his '23 450SX campaign, one of which was a win at East Rutherford, New Jersey and he's hungry for more! Most recently on the mend from collarbone surgery, Barcia is taking the time to properly heal so he can come out swinging when the gate drops for A1 in January.
As a longtime TLD athlete and original member of the GASGAS Factory squad, Pierce Brown is back for his fourth season on the MC 250F Factory Edition. Brown ended the SX season with three top-fives in the Western division, but bad luck kept him off the box and on the sideline for the first half of the outdoor season. For '24, Brown is feeling fresh and ready to get on the gas!
The team's newest recruit, Ryder DiFrancesco, is underway with pre-season prep on his new MC 250F Factory Edition as he eagerly awaits his rookie 250SX campaign with a brand-new team and set up. At 18 years old, Ryder D is ready to prove that age is just a number in the big leagues!
Justin Barcia, 450cc Division:
"I always look forward to these team events, the crew always finds a good location and we have a lot of fun and hang out with the team. Going into '24, I'm amped! I had some signs of brilliance in '23 SX but unfortunately, I had a little bit of tough luck. I'm just looking forward to improving all the things I worked on in '23 that I wasn't able to fully show and if I would have put everything together a little earlier and not had a couple injuries we would have been in that fight. Obviously, the bike is really good, the team is really good and I'm looking forward to having a really fun season with my family, of course, watching my son grow up but also going out there and fighting for those wins and the championship. Can't wait!"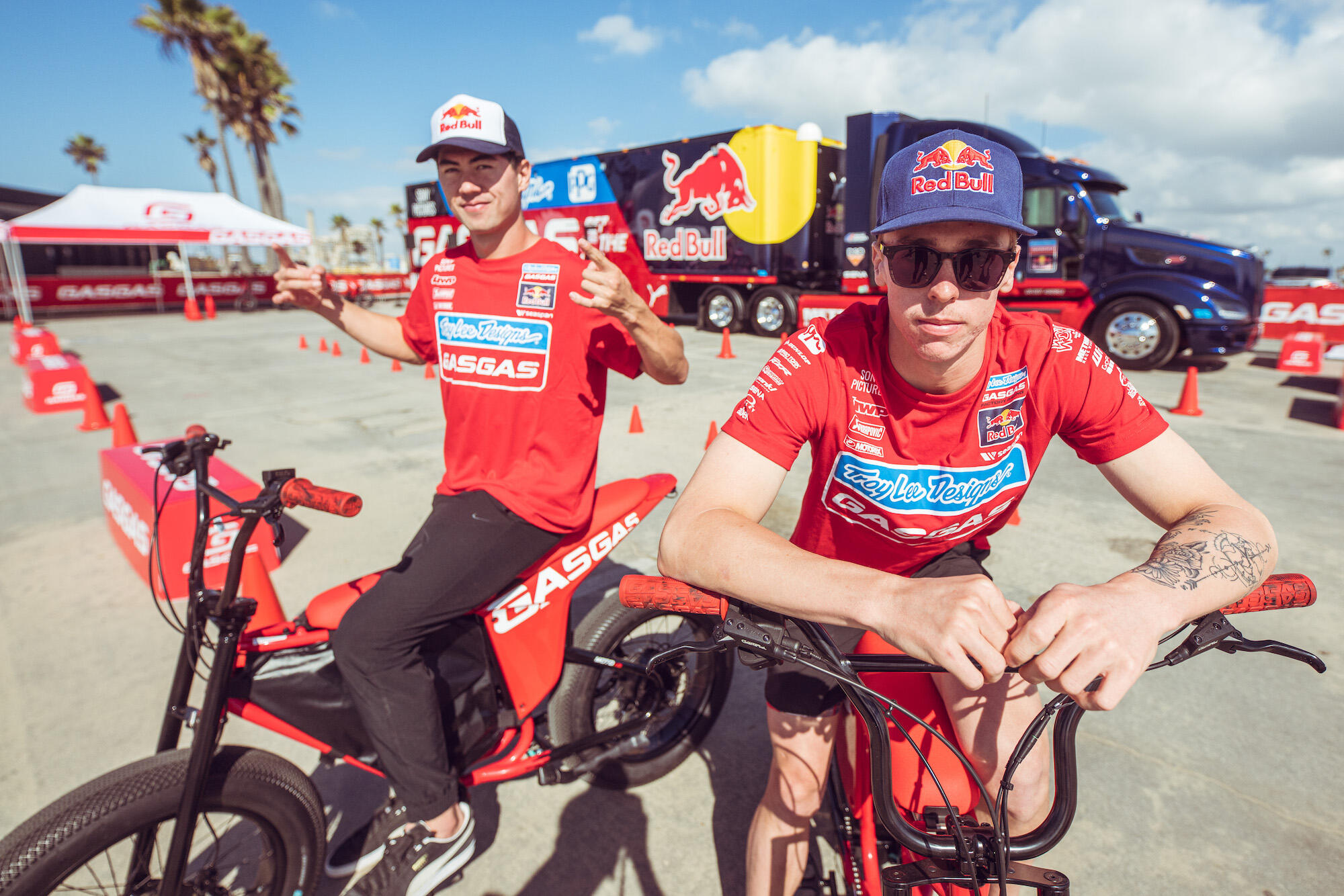 Pierce Brown, 250cc Division:
"I'm excited for the 2024 season! I've been feeling really good on the bike and I'm excited to get some redemption in the supercross and motocross seasons."
Ryder DiFrancesco, 250cc Division:
"I am excited to go racing in 2024 with an all-new look! I have always wanted to race for Troy since I went to my first-ever Supercross race and I've been having so much fun with the team and learning the new bike."