Results: 2023 GEICO Motorcycle High Point National
Saturday, June 17, 2023 | 11:15 PM
Jett Lawrence Remains Undefeated in 2023 Pro Motocross Championship with Fourth Consecutive Win at High Point
Hunter Lawrence's Moto 2 Prowess Continues for Fourth Straight
250 Class Win
Famed High Point Raceway hosted the East Coast debut of the 2023 Pro Motocross Championship, sanctioned by AMA Pro Racing, on Saturday, which featured the sport's own unique Father's Day celebration at the GEICO Motorcycles High Point National. The 46th running of the legendary event welcomed its largest crowd ever as rain on Friday coupled with dense morning cloud cover resulted in wet conditions that continued to evolve as sunshine emerged and started to dry out the racing surface. The most competitive afternoon of racing of the young season ended with the same result, as Australia's Lawrence brothers both stood atop the overall podium for the fourth time to remain unbeaten and continue the dominance by Team Honda HRC, as Jett Lawrence remained perfect in the 450 Class and Hunter Lawrence continued his unbeaten streak in the 250 Class.
Moto 1
The first moto of the day began with Jett Lawrence out front for his sixth MotoSport.com Holeshot ahead of Red Bull KTM Factory Racing's Cooper Webb and Muc-Off/FXR/ClubMX Yamaha's Garrett Marchbanks. Behind them, Progressive Insurance ECSTAR Suzuki's Ken Roczen, making his first start of the season, slotted into fourth but made several quick moves on the opening lap to claw his way up to second.
Lawrence's lead was three seconds at the completion of the opening lap, but Roczen went to work on chipping away at the deficit. While the German veteran was able to keep the Aussie upstart honest, Lawrence comfortably maintained the advantage until the halfway point of the moto. Roczen closed to within 1.5 seconds and as Lawrence looked to respond he tucked his front end on a downhill and went down. That allowed Roczen to take control of the moto and Marchbanks to move up into second as Lawrence remounted in third. With Roczen out front, it marked the first time this season that a rider other than Lawrence led a lap.
Lawrence went into rebound mode and was able to wrangle second from Marchbanks. At that point, with about a dozen minutes left in the moto, Roczen and Lawrence were separated by 5.1 seconds. Lawrence rode consistent, clean laps to close back in on the Suzuki and with six minutes to go the lead pair was separated by less than a second. Lawrence was patient and was able to reclaim the lead, but Roczen countered to put himself up front again. The Honda rider mounted another attack about a half lap later and secured the top spot for a third time. The battle was poised to continue with two laps to go, but Roczen tucked his front end and went down. He got back up quickly, but needed an extended period of time to get his Suzuki restarted, which cost him multiple positions on the track. He eventually resumed in seventh.
With the pressure gone, Lawrence cruised home to his seventh moto win in a row, which established a new record to open a 450 Class career. He took the checkered flag 26.2 seconds ahead of Marchbanks, who earned a career-best finish in second, while Webb rounded out the moto podium in third. Monster Energy Kawasaki's Adam Cianciarulo was fourth, followed by Sport Clips/Beachview Treatment/Airline Vacuum Kawasaki's Ty Masterpool in fifth.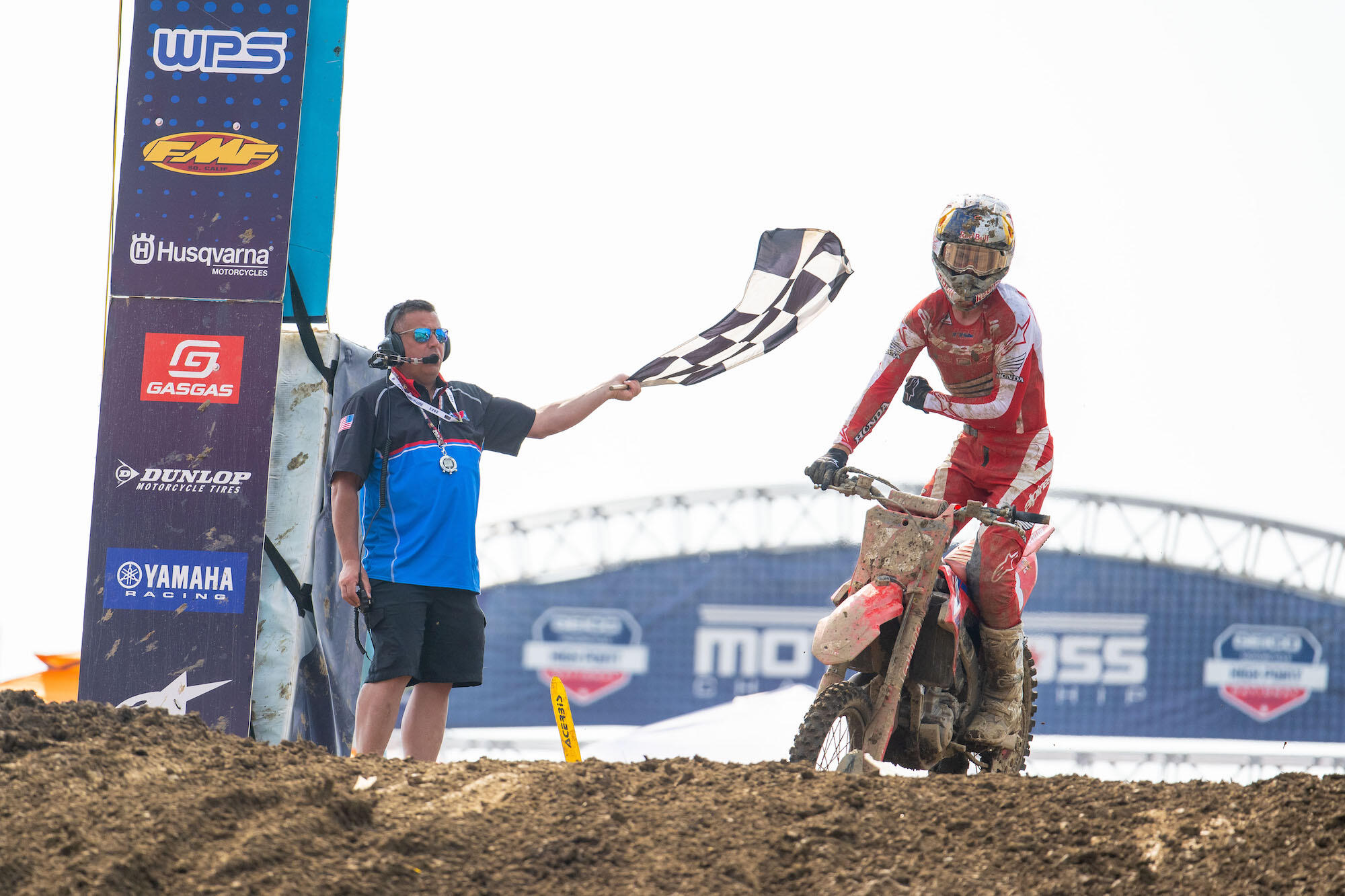 Moto 2
The deciding moto saw Roczen storm out to the early lead with the MotoSport.com Holeshot, followed by Red Bull KTM Factory Racing's Aaron Plessinger and Cianciarulo, while Lawrence experienced his worst start of the season in fourth. Known for his first lap speed, Roczen put the hammer down to open the moto and build a gap on the field. Cianciarulo was able to pass Plessinger for second, while Lawrence felt the pressure from Monster Energy Yamaha Factory Racing's Dylan Ferrandis from fifth.
A three-rider battle soon started to unfold between Cianciarulo, Plessinger and Lawrence. As Plessinger looked to make a move on Cianciarulo he slid out, which caused Lawrence to stop to avoid hitting him. That moved Ferrandis into third, briefly, before Lawrence reclaimed the position.
As the first 10 minutes of the moto passed, the top three had distanced themselves from the rest of the field and were separated by 10 seconds. As the race carried on through the middle portion and approached the final 10 minutes Lawrence closed in on Cianciarulo for second and made the pass with relative ease. The lead duo were separated by 3.5 seconds as Lawrence sought to track down the top spot. Lawrence continued to ride the fastest laps on the track and it allowed him to make big gains on Roczen, which was further aided by lapped riders.
With six minutes to go Lawrence was within striking distance of Roczen and went on the attack as soon as the opportunity presented itself. An outside line on an uphill off-camber gave Lawrence the momentum he needed to surge past Roczen and put another moto win within reach. Roczen kept him honest for a while, but Lawrence closed out the moto strong to keep his undefeated record intact by 2.4 seconds over Roczen, with Ferrandis in third.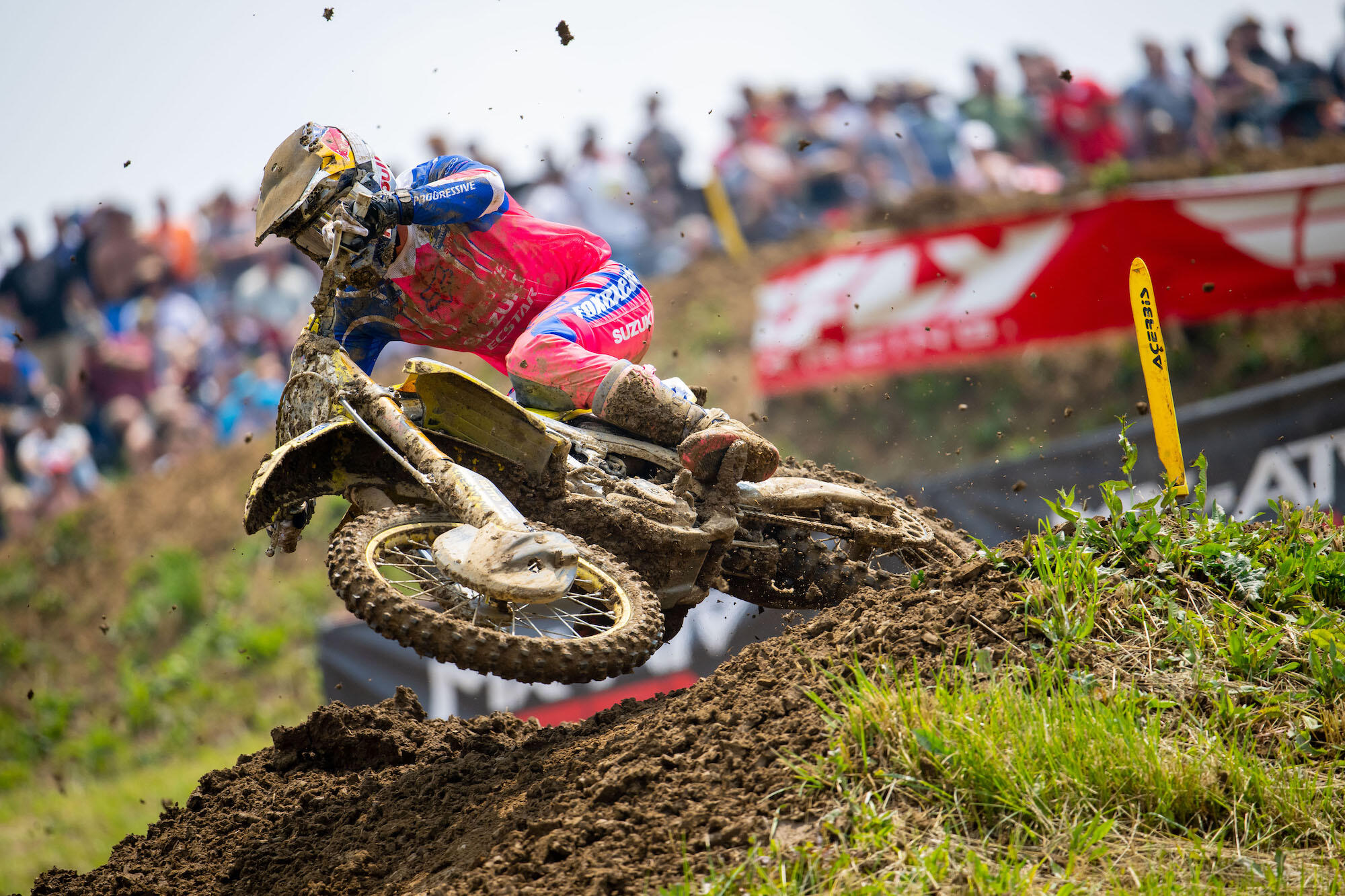 Overall
Lawrence's fourth straight 1-1 sweep equals the single-most-successful class start in the history of the sport as his eight consecutive moto wins to open his 450 Class career is shared with Hall of Famer David Bailey, who accomplished the same feat to start his 500cc career during the 1984 season. In his first start of the summer Roczen finished in the runner-up spot (7-2), while Cianciarulo finished in third (4-4) for his first podium result since the 2021 High Point National.
Lawrence added even more to advantage in the championship standings, which now sits at 49 points after four races over Ferrandis, while Webb sits third, 53 points out of the lead.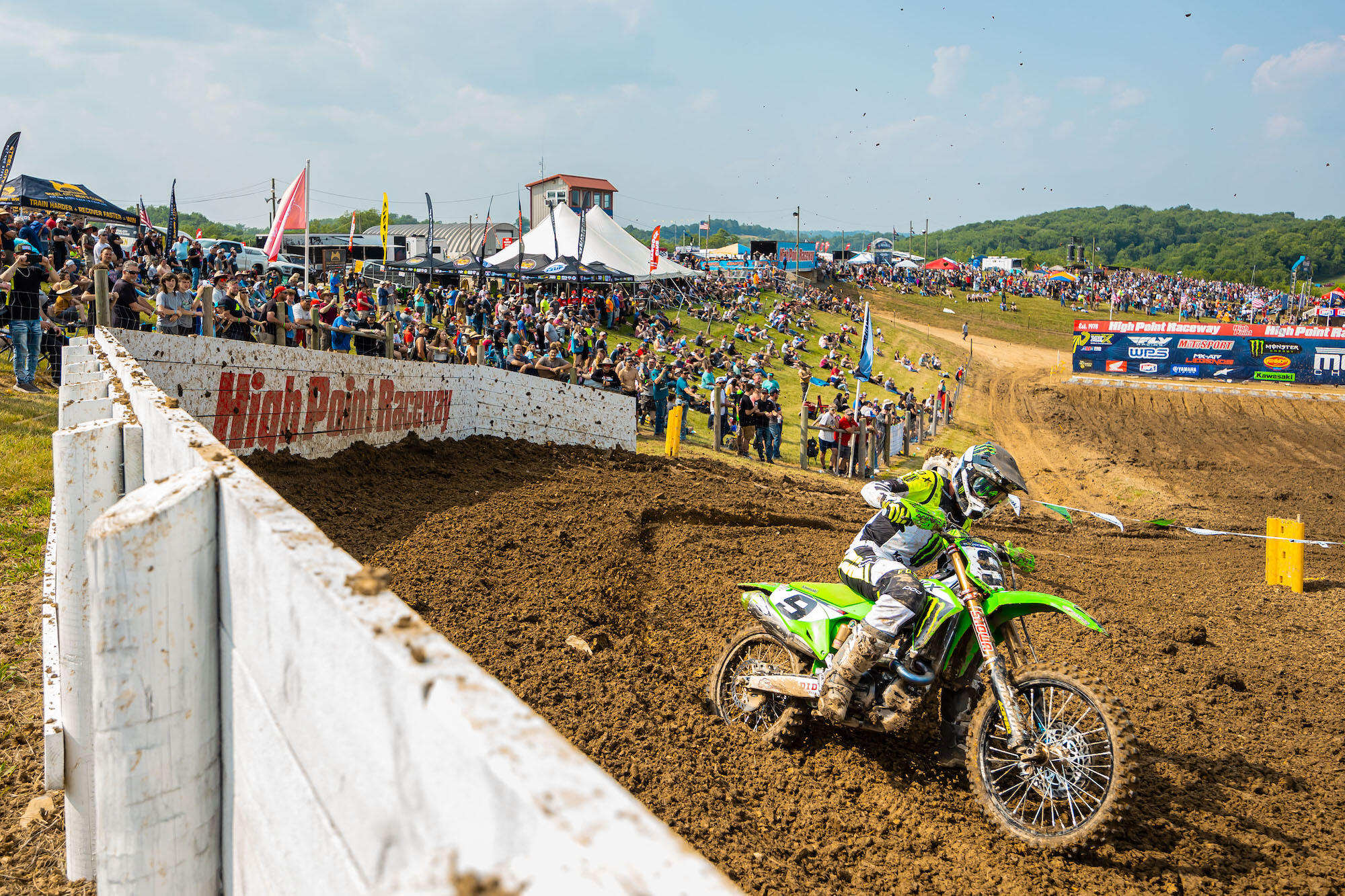 Jett Lawrence, Team Honda HRC
"It was tricky. You had to wait and be patient [with the track conditions]. It was sick being able to race with Kenny [Roczen]. I used to look up to him and now I got to race him, so I checked that off the list. It was a tough day. I didn't feel too comfortable on the track with the ruts and everything, but I held on to go 1-1. It was a struggle of a day, but I'm pumped."
Ken Roczen, Progressive Insurance ECSTAR Suzuki
"I am beyond stoked. I appreciate all the support from the fans today. This was a tough one to come back to with the track conditions. I can't believe I got second [overall] after that first moto with the crash. I felt good at the beginning [of Moto 2], but I struggled with lines and Jett was riding great. I think I'm going to have to do some more of these."
Adam Cianciarulo, Monster Energy Kawasaki
"That's back-to-back weeks where the track was really difficult. You had to be 100% focused the whole time out there. It really was a mental battle as much as it was a physical battle. I had good pace early in the moto and that almost means more to me than the result. I still have a long way to go but I'm so excited to be up here."
Moto 1
The opening moto began with Rockstar Energy Husqvarna Factory Racing's RJ Hampshire out front with the MotoSport.com Holeshot, just ahead of his teammate Jalek Swoll and Monster Energy/Pro Circuit/Kawasaki's Jo Shimoda. However, Shimoda tipped over in the second turn and caused a log jam for the rest of the field, including Hunter Lawrence, the championship point leader. Both riders resumed with starts outside the top 10.
The clear track proved to be a major advantage for Hampshire who sprinted out to an early multi-second lead over Monster Energy Star Yamaha Racing's Haiden Deegan, who passed Swoll for second. Behind the leaders, Lawrence and Shimoda began a climb through the field, with Lawrence able to carve his way up the running order.
Despite the tricky conditions Lawrence made it look easy as he picked off riders, one by one, and broke into the top five nearly halfway into the moto. Back out front, in full control of the moto, Hampshire crashed out of the lead, which allowed Deegan to assume the top spot as Hampshire quickly remounted in second, more than three seconds behind his Yamaha rival.
The final minute of the moto saw Hampshire erase his deficit and mount a late attack for the lead. The rookie rider responded as Deegan looked to run clean, defined lines and force Hampshire to venture elsewhere. As a result, some minor bobbles by Hampshire allowed Deegan to extend his advantage. Hampshire closed in once more as they took the white flag. The Husqvarna rider bided his time and pulled the trigger on a pass with about a quarter lap to go. Their lines came together and resulted in some contact, which briefly halted Deegan's momentum and allowed Hampshire to continue on.
Hampshire rebounded from his early misfortune to nab his second moto win of the season, 2.6 seconds ahead of Deegan, while Lawrence battled his way into podium position in third. Swoll followed in fourth, while Monster Energy/Pro Circuit/Kawasaki's Ryder DiFrancesco rounded out the top five.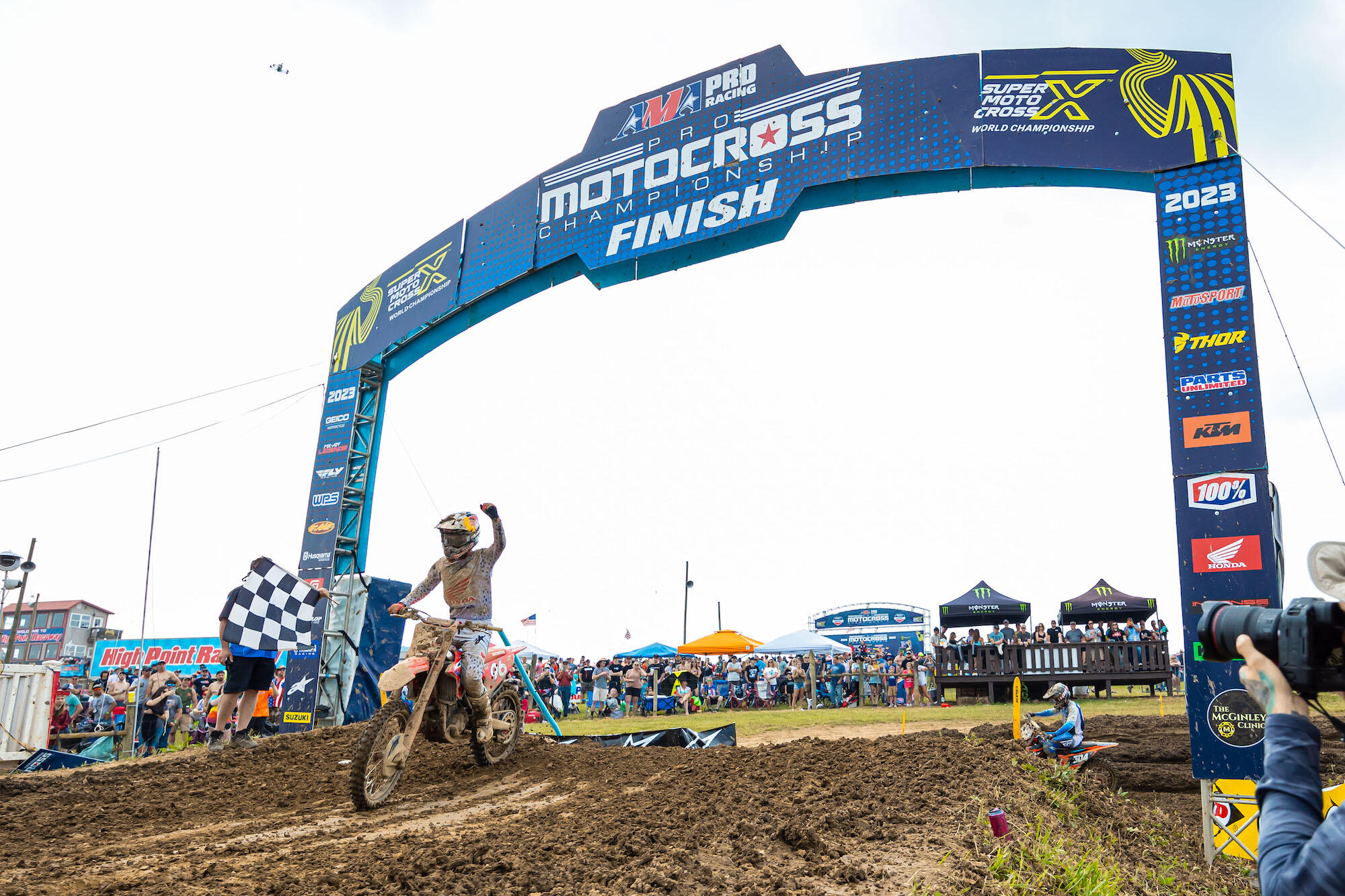 Moto 2
The final moto got underway with several of the sport's newest faces out front, as Monster Energy Yamaha Star Racing's Levi Kitchen grabbed the MotoSport.com Holeshot, but was quickly overcome by Team Honda HRC rookie Chance Hymas, which dropped Kitchen to second ahead of DiFrancesco. Behind them, many of the lead riders from the first moto found themselves on the ground, which included Hampshire, Deegan, and Swoll. Lawrence was also deep inside the top 20 off the start, but it didn't take long for the point leader to move forward and slot into the top 10.
The clear track allowed Hymas to sprint out to a multi-second lead over the field, as Kitchen and DiFrancesco settled into second and third, respectively. As this unfolded, Lawrence put in a charge to break into the top five. He continued his push and eventually worked his way around DiFrancesco into third within the first 10 minutes.
Hymas continued to control the moto as it surpassed the halfway point, but Lawrence was on a tear forward, catching and passing Kitchen for second. Once there, it didn't take long for the Australian to make big gains on the deficit to his teammate. Once he got within striking distance Lawrence wasted little time in making the move. He took advantage of some lapped riders to make an easy pass and seize control of the moto.
As Lawrence pulled away Hymas was forced to deal with pressure from behind from two-time world champion and Red Bull KTM Factory Racing rider Tom Vialle. The Frenchman looked comfortable in the conditions and was able to make a quick, clean pass on Hymas to move into second. The Honda rookie continued to lose ground to his competitors and eventually lost hold of third to Kitchen late in the moto.
Out front, Lawrence continued to build on his lead in the closing stages of the moto and soon found himself more than 10 seconds clear of the field. He took his fourth straight Moto 2 victory by 18.6 seconds over Vialle, while a last-lap battle for third unfolded between Kitchen and Shimoda, from which the Japanese rider prevailed.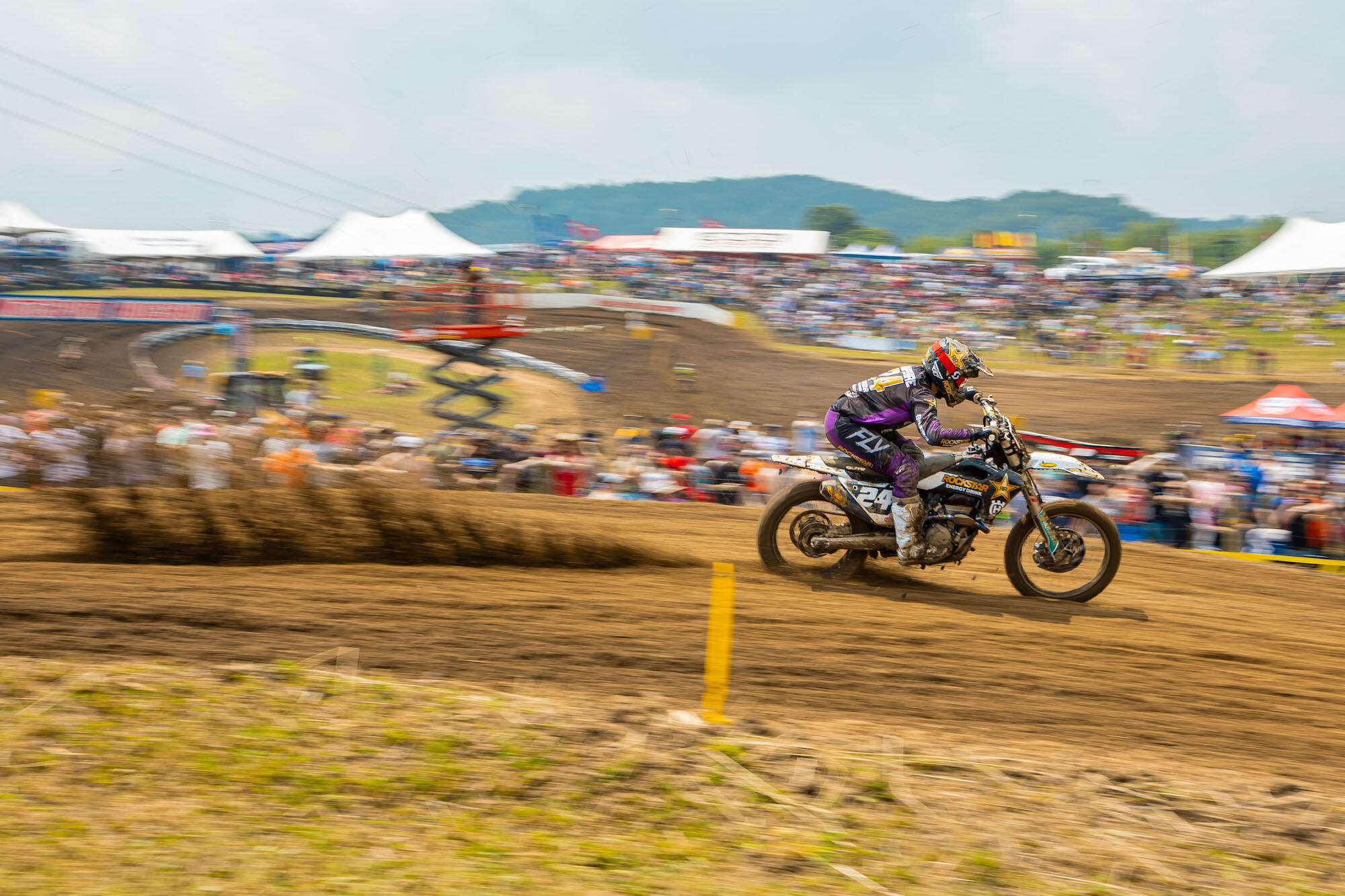 Overall
Lawrence's impeccable Moto 2 efforts once again landed him atop the overall podium to remain unbeaten. It marked the third time this season that 3-1 finishes proved to be the winning formula for the Australian, who now has five career wins. After a resilient ride to recover from his first-lap crash, Hampshire secured the runner-up spot (1-7), while Deegan earned his third podium finish in four races this season in third (2-6).
At the conclusion of the race, officials reviewed footage to confirm that Lawrence had violated Section 2.10, Item b.iii., 9.c.** of the AMA Pro Racing Pro Motocross Rulebook pertaining to the adherence of signal flags. As a result, Lawrence was penalized seven championship points. Event results were not affected.
The impressive winning streak to open the season has put Lawrence 28 points ahead of Deegan, who moved into second, and 42 points ahead of Hampshire, who now sits third. Monster Energy Yamaha Star Racing's Justin Cooper, who entered the day second in points, was forced to miss the afternoon motos following a crash in practice and dropped to fifth in the championship standings.
Hunter Lawrence, Team Honda HRC
"It's a good habit I guess [winning Moto 2]. I'm stoked. This track was wild. This is the country club of motocross so we're going to watch Jett [Lawrence in Moto 2] and then we'll go cheer on our buddy [golfer] Rickie Fowler at the U.S. Open. He loves moto and we should all support him."
RJ Hampshire, Rockstar Energy Husqvarna Factory Racing
"That's all me [in the Moto 2 crash]. I got a decent start but I guess I came in too hot into the second corner. It's a bummer I took out my teammate too. I'll take it though. Second moto win of the season and another podium."
Haiden Deegan, Monster Energy Yamaha Star Racing
"That was some crazy racing. I crashed on the start and got ran over. Kind of the whole nine yards. My thought after that was either crash or get on the podium today. I gave it my all and it paid off."
High Point National - 450 Class
| | Rider | Hometown | Motos | |
| --- | --- | --- | --- | --- |
| 1 | Jett Lawrence | Landsborough, Australia | 1 - 1 | |
| 2 | Ken Roczen | Mattstedt, Germany | 7 - 2 | |
| 3 | Adam Cianciarulo | Port Orange, FL | 4 - 4 | |
| 4 | Dylan Ferrandis | Avignon, France | 6 - 3 | |
| 5 | Cooper Webb | Newport, NC | 3 - 6 | |
| 6 | Garrett Marchbanks | Coalville, UT | 2 - 8 | |
| 7 | Ty Masterpool | Fallon, NV | 5 - 7 | |
| 8 | Aaron Plessinger | Hamilton, OH | 8 - 5 | |
| 9 | Grant Harlan | Justin, TX | 11 - 9 | |
| 10 | Derek Drake | San Luis Obispo, CA | 9 - 12 | |
Full Results
450 Class Standings - 2023
| | Rider | Hometown | Points |
| --- | --- | --- | --- |
| 1 | Jett Lawrence | Landsborough, Australia | 550 |
| 2 | Dylan Ferrandis | Avignon, France | 399 |
| 3 | Aaron Plessinger | Hamilton, OH | 386 |
| 4 | Chase Sexton | La Moille, IL | 338 |
| 5 | Adam Cianciarulo | Port Orange, FL | 328 |
| 6 | Garrett Marchbanks | Coalville, UT | 255 |
| 7 | Ty Masterpool | Fallon, NV | 242 |
| 8 | Fredrik Noren | Lidköping, Sweden | 219 |
| 9 | Jason Anderson | Edgewood, NM | 207 |
| 10 | Grant Harlan | Justin, TX | 176 |
Full Standings
High Point National - 250 Class
| | Rider | Hometown | Motos | |
| --- | --- | --- | --- | --- |
| 1 | Hunter Lawrence | Landsborough, Australia | 3 - 1 | |
| 2 | R.J. Hampshire | Hudson, FL | 1 - 7 | |
| 3 | Haiden Deegan | Temecula, CA | 2 - 6 | |
| 4 | Jo Shimoda | Suzuka City, Mie Prefecture, Japan | 7 - 3 | |
| 5 | Tom Vialle | Avignon, France | 11 - 2 | |
| 6 | Chance Hymas | Pocatello, ID | 8 - 5 | |
| 7 | Ryder DiFrancesco | Bakersfield, CA | 5 - 8 | |
| 8 | Jalek Swoll | Belleview, FL | 4 - 11 | |
| 9 | Levi Kitchen | Washougal, WA | 12 - 4 | |
| 10 | Max Vohland | Sacramento, CA | 6 - 12 | |
Full Results
250 Class Standings - 2023
| | Rider | Hometown | Points |
| --- | --- | --- | --- |
| 1 | Hunter Lawrence | Landsborough, Australia | 419 |
| 2 | Justin Cooper | Cold Spring Harbor, NY | 399 |
| 3 | Jo Shimoda | Suzuka City, Mie Prefecture, Japan | 393 |
| 4 | Haiden Deegan | Temecula, CA | 371 |
| 5 | Levi Kitchen | Washougal, WA | 322 |
| 6 | Tom Vialle | Avignon, France | 302 |
| 7 | Max Vohland | Sacramento, CA | 295 |
| 8 | R.J. Hampshire | Hudson, FL | 288 |
| 9 | Jalek Swoll | Belleview, FL | 221 |
| 10 | Ryder DiFrancesco | Bakersfield, CA | 208 |
Full Standings